Additional delays appear on paving project's already rocky road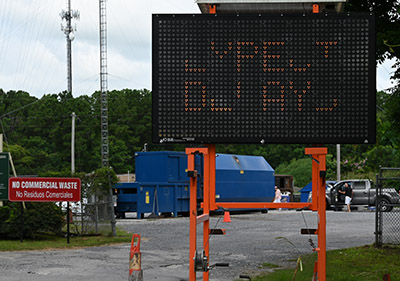 Burned out bulbs send a message to drivers on Grate Avenue.
A project to repave the road to the Pawleys Island recycling center that is more than a year behind schedule will be delayed further by stormwater improvements.
Grate Avenue was approved for repaving by the Georgetown County Transportation Committee in January 2020. The cost was $205,055. It was planned as a three-day project, with the center closed midweek to allow the quick turnaround. It is the business center in the county.
But utilities along the road's right-of-way had to be moved. Then the coronavirus pandemic arrived.
"We had a bad beginning," said Ray Funnye, the county's director of Public Services. "It's been the public works project from hell."
County Council didn't approve the paving contract until November.
Then there was a problem with the stormwater system.
"The contractor put in catch basins that were too high," Funnye said. "They were a trip hazard."
The county also discovered that the drainage system wasn't draining.
"We've got water flooding people worse than it was before," Funnye said.
Another catch basin will be added when the low-profile basins are installed, he said. That will require additional digging before the paving can begin.
County staff and the paving contractor, Coastal Asphalt, met last week to come up with a new schedule for the project.