Coming to listen, staying to read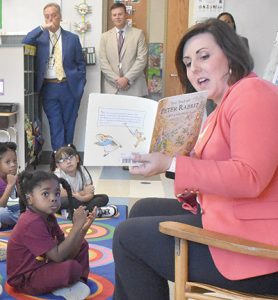 State Superintendent of Education Ellen Weaver reads to a class at Maryville Elementary.
The state superintendent of education shared a secret with kindergarteners at Maryville Elementary School this week.
Ellen Weaver told the youngsters that knowing how to read was their superpower.
"Reading is the most foundational skill," Weaver said. "Everything else in education relies on reading."
Weaver is a staunch supporter of professional development programs started by her predecessor, Molly Spearman, to help educators learn how to teach children to read.
"This is the most important thing we can do in education in South Carolina: equip our teachers with the tools that they need to help our kids be successful," she said. "We've made really big strides in cognitive science over the last few years and understanding how students learn how to read."
Weaver also gave the kindergarteners a lesson in democracy. She brought two books with her – "The Little Engine That Could" and "The Tale of Peter Rabbit" – and let the kids vote on which one she would read to them. The vote was 9-3 for Peter Rabbit. That's called a "landslide," she told the kids.
Since being sworn in as superintendent in January, Weaver has taken many trips to schools around the state.
"Really the only way we're going to move education in South Carolina forward is if we're out listening to the people," Weaver said. "The chance to talk with teachers today, to talk with principals, and most importantly to hear from students, is a wonderful opportunity for me to gather the information that I need to take back to Columbia so we can make good decisions to move education forward."
Alan Walters, the school district's director of safety, also showed Weaver some of the steps the district took to harden the entrance to the Career Center at Georgetown High School, and all schools, including bullet-resistance glass and Kevlar. Weaver was impressed.
"That's amazing," she said.
Walters, who is also a member of the state Board of Education, told Weaver the district spent about $2 million to make schools safer eight years ago. The price would be double now, he added.
Weaver said she might send people from the state Department of Education to Georgetown County to see what the district did.
"When we're recruiting school designs I think that's one of the top things we're looking at, what are the best practices that we can [use] across the state," she added.
During a campaign stop in Pawleys Island in October, Weaver said two of her priorities if elected would be recruiting and retaining teachers and cutting through the red tape involved in state education.
After her visit to Maryville Elementary on Tuesday, Weaver said the state needs to give teachers the tools, like professional development, to make them feel empowered.
Salary increases would be good too, she added.
"I'm really pleased to see that we will do that in this year's [state] budget. Both the House and the Senate have agreed to that," Weaver said. "But we also have to be really intentional in how we're growing great principals because principals build the culture in the schools that either attracts or repels teachers."
During her visit to Georgetown, Weaver said she met some "amazing" school leaders who are building inviting school cultures.
As far as cutting through the red tape, Weaver touted an initiative to decrease the number of reports that districts have to make to the state.
"I want folks who are the ground here in our local schools to actually spend their time teaching and supporting students and not doing paperwork," she said. "We're working hard in the department to reduce that paperwork from our end."