Cooking with Friends offers a recipe to help meet community needs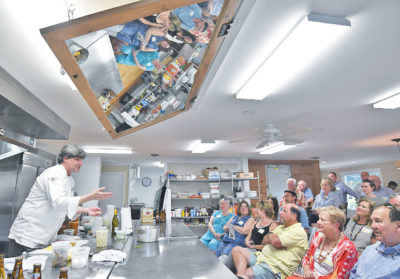 Chef Michael Keough starts work on foragers stew.
Twenty-five lucky people dined on Pawleys Creek foragers stew and berry clafoutis for the Cooking with Friends finale in the Cypress Room at Get Carried Away.
Tickets were hotter than a blue flame for the event last month, the last of four such fund raisers this year to benefit Friendship Place's programs, which help feed the hungry, provide job readiness training and creatively meet the unmet needs of Georgetown County.
Each session featured a cooking demonstration by a local chef.
Among the participants who scored a ticket were Carolyn Strong and her husband, Tom, who'd missed out on previous dinners. "They sell out in an hour. This time I just kept calling, and finally I was able to get through," she said, nodding approvingly between bites of Clafoutis.
All were there for the love of cooking and to support Friendship Place.
"Where else can you get a delicious meal with wine and dessert for $50 and help a local charity," asked Sarah Zimmerman, who, with her husband, supports Friendship Place and was lucky enough to get tickets for all the dinners this year.
Betsy Harper was there because she loves to cook and has volunteered at Friendship Place.
After mingling and sipping wine donated by Pawleys Wine & Spirits, guests took their seats in front of a steel prep table, where Michael Keough, executive chef at the Lakes at Litchfield, was ready to preside.
Keough began with a toast to his mentor, the late award-winning chef Louis Osteen whose culinary prowess earned him the moniker, "grandfather of Lowcountry cuisine." Then he began slicing, dicing, and stirring while serving up quips, tips and stories.
• Waxy potatoes, such as fingerlings, hold up better in the stew. Cook them first, then cool, cut them, before adding to the dish.
• Use only the white portion of leeks and save the outer layers to make stock.
• Use shrimp shells to make stock.
• Never cook shrimp longer than three minutes.
• The second layer of corn kernels on the cob are the creamiest and the sweetest.
"Asian crab is cheaper and lots of people use it, but domestic crab is by far superior and worth the extra expense. It took around 300 crabs to manufacture the three pounds I used for the dish," Keough said, pointing to the containers on the table.
All the while Keough never missed a beat – or a spoon. No surprise. He oversees five dining rooms and preparation for nearly 400 meals each day for the Lakes residents.
Shortly after 7 p.m., he took the crepe-like clafoutis out of the oven, layered it with locally grown blueberries, sprinkled them lightly with sugar and slid it inside once more to cook a few minutes longer.
Anticipation and aromas filled the room.
Then the dinner hour arrived.
Keough served up the stew, filled with shrimp, sausage, corn and potatoes, topping it with lump crabmeat and garnishing it with deep-fried corn silk.
Next, he drizzled boiled custard over the clafoutis.
The room was quiet, except for ooh, aahs and praise.
"Delicious!"
You've inspired me!"
"Wow."
"Wish you could cook for me every night!
"Can the public dine at The Lakes?"
Keough, who gives cooking demos on request, said he selected the menu for its ease, locally sourced ingredients and relative economy.
"It basically costs under $10 a person, and I wanted it to be something easy to make and that people would enjoy eating," he said. "Plus, we're coming into the peak season for shrimp and corn."
Keough said he enjoyed the event as much as the guests.
"For me, cooking is a Zen," he said. "Serving other people and seeing a smile on their face make me happy."
Charlie Ball, executive director of Friendship Place, said the idea for Cooking with Friends originated at Get Carried Away.
"Brian and Sassy Henry, [Get Carried Away owners] Aleene Miller, Steve Milligan and I were sitting around the table talking one day about how to showcase the Cypress Room and benefit Friendship Place," Ball said. "We set it in motion and it has taken off."
The idea was to highlight local talent.
"There are so many awesome chefs in this area, and all the chefs have been incredibly generous," Ball said. "They donate their time and the food for the meal. And the meals have been incredible!"
Zimmerman, who said she learned something new, namely how to prepare fingerlings for a soup or stew, agreed.
"What they're doing to break the cycle of poverty is so important to our community," she said.
And if you missed on a ticket this year, you'll get another chance in the fall.
Cooking with Friends will resume in September.