County finds new caretakers for 'orphan median'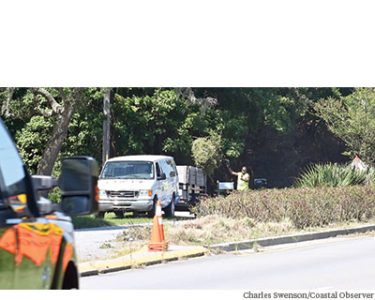 CRM started cleaning up the median before Labor Day.
Crews went to work last week clearing weeds and trash from 1.9 miles of landscaped median along Highway 17 in the Pawleys Island business district. After two years of false hopes, the area known as the "orphan median" has a new family.
"They're finally at work," said Brian Tucker, Georgetown County's economic development director.
The median was installed in 2015 by the state Department of Transportation to replace a two-way left-turn lane. The plants that were installed by Waccamaw Landscaping were maintained for the first year under a contract with the state.
In 2017, the county put the work out for bid and hired a landscape firm from Myrtle Beach at a cost of about $20,000 a year. The company only showed up a few times and weeds started to take over the beds.
Tucker got involved this winter when complaints from area residents prompted the county to look for another way to maintain the area. In the wider median to the north and south local nonprofits care for the median landscape with donations and grants from Georgetown County's accommodations tax fund. The nonprofits both use Waccamaw Landscaping.
Georgetown County hired the firm to do a cleanup this winter. It wanted to do the work in January. Funds and a permit from DOT didn't come until spring. The work was done the week before Easter and two lanes of the highway were closed as a safety measure. Complaints sprang up like weeds.
"It was a good learning opportunity," Tucker said. He was asked by County Administrator Sel Hemingway to work on the project.
The county has now hired CRM, a property management company based in Litchfield. It said it would not need to close lanes or work at night, which was a more expensive alternative to lane closings.
"CRM was OK with the safety issues," Tucker said.
Just before the Labor Day weekend, crews in safety vests worked their way through the landscape beds one by one, moving traffic cones and work trucks as they went. They still drew some criticism on social media. They also received kudos for cleaning up what many believed was an eyesore.
"They're going to try to do it late afternoon or early morning," Tucker said.
The county will work with the Pawleys Island Highway Beautification Committee, which maintains the median south of the business district, Tucker said.
The group said this summer it was willing to take on the supervision of the contract provided funds will be available from the county, which has talked of cutting back on grants for highway landscape maintenance.