County seeks federal funds for 2 corridor study projects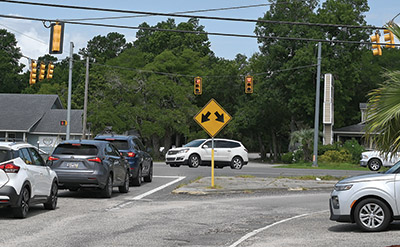 One project will eliminate left turns at the Litchfield Drive intersection.
Georgetown County is seeking funds for two of 10 projects listed as priorities in a study of the Highway 17 corridor through Waccamaw Neck. The $3.3 million request is the lowest of any submitted for what is estimated to be $70 million in infrastructure funds.
"Your next shot at this isn't going to be for another seven years," said Mark Hoeweler, executive director of the Grand Strand Area Transportation Study.
Myrtle Beach and North Myrtle Beach each applied for more than $30 million. The city of Georgetown didn't submit any projects.
Changing the intersections in the area around Litchfield Country Club and removing the median cut at Hog Heaven are among $53.4 million in improvements recommended by the study, completed last year by the engineering firm AECOM. The county wants the projects added to the regional transportation plan funded by GSATS, an intergovernmental body that allocates federal transportation funds in the region.
GSATS normally gets about $35 million for its five-year plan. That is expected to double with the infusion of federal funds for infrastructure, Hoeweler said.
The Litchfield Country Club improvements, estimated to cost $2.4 million, would install a raised median from Crooked Oak Drive south to the entrance of Salt Marsh Cove. It would eliminate the four-way intersection at Litchfield Drive and restrict left turns to each end of the raised median, where traffic signals would create breaks in the highway traffic to allow U-turns.
The project would eliminate backups on Country Club Drive when drivers try to make left turns out of the country club.
The project was ranked third in the corridor study, behind a reconfiguration of the intersection of Bypass 17 and Highway 707 and the installation of a raised median in the Pawleys Island business district south of Waverly Road.
The median cut at Hog Heaven was one of 10 median cuts recommended for removal. Between January 2020 and December 2021, Midway Fire and Rescue responded to 24 crashes at that median cut.
Holly Richardson, the county planning director, said officials decided not to seek funding to close the other median cuts until other improvements can be made.
In addition to closing the median cut in front of the restaurant, the county plans to install a new break in the median with U-turn lanes on the highway between The Colony neighborhood and Prince George. That was also part of the corridor study's recommendations. The work is estimated to cost $900,000.
The applications will be ranked by GSATS staff and presented to the policy committee for approval. If approved, the Waccmaw Neck projects could be eligible for funding in 2024, Hoeweler said.