Deadlocked council pledges to tackle affordable housing in another location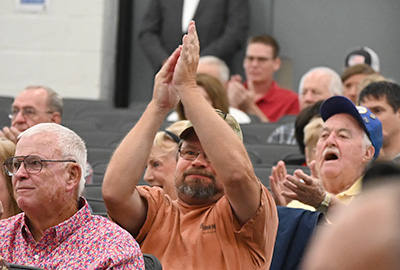 Opponents of the zoning change applaud the council vote.
A divided County Council this week failed to pass a zoning change proposed to develop affordable housing outside Georgetown.
Opponents of the project pledged to focus on affordable housing elsewhere, but supporters told the council they no longer had faith in the county, accusing members who voted against the measure of fueling racial and class divisions.
Tidelands Health sought to add multi-family residential to the list of uses on 16 acres off Highway 701, part of the 65-acre Weehaw Tract that was once proposed as the new site for Georgetown Memorial Hospital. The zoning change was needed to allow developers to seek Low Income Housing Tax Credits administered by the state to build 90 units that they said would be affordable to households that earn 60 to 80 percent of the county's median income.
The final application for the current cycle is Friday.
Residents in Wedgefield Plantation and nearby neighborhoods opposed the change, saying the development would increase traffic problems, lead to crime and decrease their property values.
The Planning Commission voted 6-0 to recommend approval. County Council voted 4-2 to approve the change earlier this month. Council Member Everett Carolina abstained.
When the change came up for final approval this week, Council Chairman Louis Morant, who supported the change, recused himself. His wife, Marthena, is a member of the Tidelands Health board.
"I believed I did not have any conflict," Morant said, but he sought an opinion from the state Ethics Commission. "The commission stated that, in its opinion, there was a conflict."
Carolina joined Council Members Bob Anderson and Raymond Newton in opposing the zoning change.
Council Members Steve Goggans, Lillie Jean Johnson and John Thomas supported it. The tie vote meant the change was not approved.
"I believe we, the county, should be a partner in this creation of affordable multi-family housing and come up with a Plan B and possibly a Plan C," Carolina said. "There's a possibility that this is not the ideal location for this particular project at this time."
One reason the developers are interested in the property is that it is in a federal Opportunity Zone, and Carolina noted that the designation was for 10 years.
"We can return to address this issue at a later time after the main concerns, such as traffic issues, environmental issues and wetland issues, conservation easement issues are clarified and addressed," he said.
Anderson opposed the change because it would move low-income housing into an area of middle- and high-income property.
"When I ran for office, I was really pushing to develop this side of the county," he said. "This has been an eye opener for me."
He has called the tax credit program that is funded by the federal government "social engineering."
"I'm not even going to say 'affordable housing.' It's going to be occupied by people who can't afford to pay all of their rent, and that's not quite affordable housing. It's got another name," he said.
Newton said affordable housing is "one of Georgetown County's more serious problems" and that he had talked about it at length with Anderson and Carolina.
"Many hours have been spent, not on how to defeat the Weehaw plan, but how can we improve and move forward with a plan that benefits all the residents of Georgetown County," Newton said.
Goggans pointed out that the issue was land use not "social engineering."
"I'm just not sure there's a good understanding of what affordable housing is," he said. "Affordable housing is not low-income housing."
The county commissioned a housing needs assessment this year that showed little is available for households that earn less than $50,000 a year, which includes many teachers, firefighters, police and service industry workers. Officials have said the lack of affordable housing generates traffic as people commute from Horry County to jobs in Georgetown County, and makes it hard to attract industry.
"I think we're sending a terrible message" in denying the zoning change, Goggans said.
Carolina said the county should work with Habitat for Humanity to create affordable single-family homes.
"I'm an advocate for home ownership," said Carolina, who owns rental properties. "I also believe that individuals would rather put money into ownership of a home to build equity."
The vote was moved up on the council's agenda ahead of the public comment period that usually starts its meetings. After the zoning change failed, most of those who had signed up to speak left.
Those who remained had harsh words for the council.
"Y'all have done a disservice to this community," said Wesley Gibson, speaking on behalf of the community group Citizens for Progress. A video circulated by opponents of the project "was strictly racial," he added.
"There is a bigger issue when you prevent them from putting that housing there. I know that. There's racial intent behind that," Donald Gilliard said. "We think that vote was insulting."
Marilyn Hemingway, founder of the Gullah-Geechee Chamber of Commerce, said concerns about the tax credits and federal programs were "code words" for discrimination.
Hemingway agreed that the county needs to pursue economic development, but doubted the council's commitment.
"Why should we believe you now, because your actions speak for you, and they do not speak well," she said. "You can't worry about a job if you don't have a roof over your head. You can't create a job if you don't have a roof over your head. So shame on you."