District offers mask waivers for students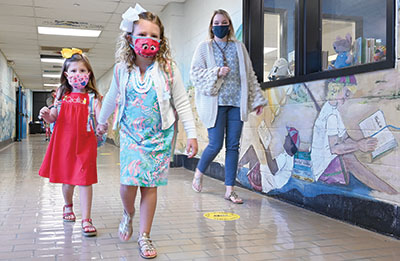 Masks have been required in schools since students returned in September.
Parents now have the option of not having their children wear masks inside school buildings.
Gov. Henry McMaster signed an executive order on Tuesday overriding all mask requirements in the state.
"We have known for months that our schools are some of the safest places when it comes to COVID-19," McMaster said. "With every adult in our state having the opportunity to receive a vaccine, it goes against all logic to continue to force our children – especially our youngest children – to wear masks against their parents' wishes. Whether a child wears a mask in school is a decision that should be left only to a student's parents."
McMaster directed the state Department of Health and Environmental Control to distribute a form for parents to sign for their children to "opt out" of wearing a mask.
State Superintendent of Education Molly Spearman said Wednesday she was very
concerned about the governor's decision, but rescinded her mask requirement.
"It puts our classroom teachers and personnel in a very precarious situation," Spearman said.
Dr. Edward Simmer, director of DHEC, said the agency "strongly recommends" children continue to wear masks indoors when in large groups and maintain social distancing, and school districts not remove plexiglass barriers.
"We would have preferred to see those things continue to be mandated at least until the end of the school year," Simmer said. "Our hope is that schools and parents will continue to do the right thing."
Students will still have to wear their masks on school buses since President Joe Biden signed an executive order requiring masks to be worn on all forms of public transportation.
In April, the state Legislature passed the Safe Harbor Liability Act, which says a business can't be held liable for sickness or death caused by COVID-19 contracted inside their establishment if they adhered to public health guidelines.
The Georgetown County School District announced Wednesday that it would comply with the governor's orders after consulting with its local medical advisory panel, which referenced the county's low incidence rate of COVID-19 cases and high rate of vaccinations as reasons to support the waiver.
Alan Walters, the district's executive director for safety and risk management, said districts across the state are trying to figure out whether the opt-out forms will protect a district from legal action if a child gets sick or dies after not wearing a mask to school.
As of Wednesday, DHEC had not changed its mask guidelines to include an opt-out provision
"They're still saying until the end of the school year you've got to wear a mask," Walters said. "It's just been frustrating for everybody trying to figure out how we're going to implement it and still adhere to the guidelines."
Spearman is not sure how teachers will keep track of which students don't have to wear masks.
"These folks have a lot on their plate already," she said. "This adds one more thing for them to do."
Parents can download the opt-out form online. It must be filled out, signed and returned to the child's school.
Children as young as 12 could begin getting vaccinated this week.
The Centers for Disease Control and Prevention is expected to issue guidelines today for children between the ages of 12 and 15 to receive the Pfizer vaccine.
A parent or guardian will have to sign a consent form issued by the vaccine provider, but will not have to be there when the child is vaccinated.
DHEC estimates there are 190,000 residents between the ages of 12 and 15.