Donors open wallets to help those in need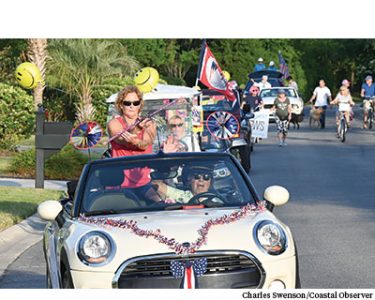 Shirley and A.J. Giegerich lead the Palmetto Giving Day parade through Camden Creek in Allston Plantation.
With need as great as it's ever been in Georgetown County, people from near and far stepped up this week to support local nonprofits.
The fourth annual Palmetto Giving Day, hosted by the Frances P. Bunnelle Foundation, raised $1.7 million during a 36-hour fundraising marathon. The number of donations, 3,533, was a record.
"We are just so excited for our nonprofits and for the community," said Geales Sands, the foundation's executive director. "Georgetown County is a pretty impressive place to live. We're small but we're mighty. We pull together as a team, we collaborate, we work together."
The online event raised money for 52 nonprofits that serve Georgetown County. The Bunnelle Foundation matched donations 150 percent up to $7,500 per organization.
"What a community effort," said Eric Spatz, executive director of Teach My People, which provides after-school and summer tutoring programs for kids.
For the second year in a row, Teach My People was the top earner with $143,438 from 196 donors.
"We are completely grateful and amazed at the same time, especially in the climate we're in," Spatz said. "Even half of that amount would have made me feel pretty good."
Midway through the event, residents of Camden Creek in Allston Plantation held a Palmetto Giving Day parade through the neighborhood. By car, bike and foot, they wound their way past the 139 homes to draw attention to the event and some of the nonprofits.
Becky Ransome gave out donor information. To maintain social distancing, she had folded the flyers into paper airplanes.
"We just wanted to do something to get people outside – safely – and do something outside of ourselves," Ransome said.
Spatz saw donations come from all over the country, including Colorado, Ohio, Connecticut and Pennsylvania.
It costs about $80,000 to run Teach My People's summer program, so the Palmetto Giving Day donations will completely cover that, plus some of the costs of the after-school program in the fall.
"It gets us really far down the road," Spatz said.
Teach My People was one of four nonprofits that raised more than $100,000 during Palmetto Giving Day. Helping Hands of Georgetown received the second most donations, $117,000 from 203 people, the South Carolina Environmental Law Project raised $112,624 from 347 donors, and Friendship Place raised $110,601 from 160 donors.
"All of them are home-grown, grass-roots organizations," Sands said. "None of them have a national presence."
"What a blessing," said Brendon Barber, executive director of Helping Hands. "When you're fulfilling your mission and you're a faith-based organization, God will take care of you."
The nonprofit provides basic needs like food, clothing, dental care and help with utilities, along with job training and mentoring for students.
Even though Helping Hands closed its office because of the coronavirus, its work had continued. Barber said he's seen an increase in the number of people who need help, including people who have worked their entire lives and never had to ask for help.
"We've seen new faces from across the entire county," Barber said. "It's humbling for them, but it's also humbling for us."
During the Allston Plantation parade, Diane Ehmann collected food for Helping Hands and the Baskervill Food Pantry. Ehmann chose the two nonprofits because some of her neighbors do volunteer work for them.
Ehmann was concerned that some of her older neighbors might be uncomfortable making a donation online and would prefer something more tangible like bagging up and donating nonperishable food.
"People want to do things but they don't always know how," Ehmann said.
She was not uncomfortable with the Palmetto Giving Day process.
"I'm going to open my computer," Ehmann said. "Usually I open my wallet."
After raising nearly $3 million dollars in its first three years, Palmetto Giving Day was expanded from 24 hours to 36 hours this year.
The Bunnelle Foundation decided to lower the minimum donation from $25 to $10 this year and received 196 gifts of $10. There were also 274 donation of amounts between $12 and $25.
"I think that was a good move," Sands said. That was exciting for us."
Fifteen hours after Palmetto Giving Day started on Tuesday, donations topped $1 million. A short time later, the number of donors passed last year's total.
Halfway through the 36-hour event, the amount of donations broke the record of $1.2 million set last year.