Groups appeal state permit for DeBordieu groins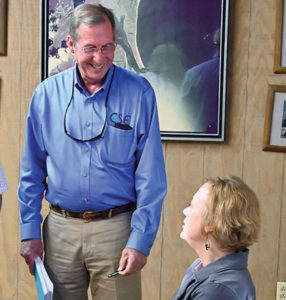 Tim Kana, who designed the project, and Amy Armstrong, who represents its opponents, talk after a meeting on the DeBordieu groin project at the Kimbel Lodge at Hobcaw Barony.
The only thing missing was a judge as both sides in a dispute over a state permit to build three groins on the beach at DeBordieu argued their case last week. It was likely to be their last meeting until a state Administrative Law Court judge hears an appeal of the permit.
The Coastal Conservation League and the Belle Baruch Foundation have appealed the permit to allow the groins as part of a beach renourishment project. Opponents argue that the groins will increase erosion on the undeveloped beach at Hobcaw Barony owned by the foundation. The DeBordieu Colony Community Association says the groins will hold the sand and reduce the frequency, and cost, of renourishment that will be funded by property assessments.
The league invited members to the Kimbel Lodge at Hobcaw for an update on the permit, which was issued by the Department of Health and Environmental Control in January. The audience was mostly made up of DeBordieu residents.
"Not that you're not welcome, but it changes the nature of the meeting," Erin Pate, director of the league's North Coast office, told them. She is also a DeBordieu resident. "Our goal is to share information."
The DHEC board last month denied requests to review the staff decision on the permit. The league filed its appeal the day after the meeting. The Baruch Foundation filed the day before. "We're still quite a way from any final decision," said Amy Armstrong, senior counsel at the S.C. Environmental Law Project, which represents the league.
The groups also appealed a previous permit for groins as part of a renourishment project. They were dropped to allow the work to move forward. This time, the association built the legal process into its timetable, said Blanche Brown, the general manager of the association.
"Most of us support the majority of the work you do," Bob Flowers, an association board member, told the league. "What has frustrated me is that you fail to look at increases or improvements in science that have occurred over the past few years."
DeBordieu is proposing "low profile groins" that will allow more sand to flow over them, although it acknowledges there will still be erosion at Hobcaw.
"We consult the experts," Armstrong said. "We try to identify the people who have been studying it through research."
"I don't believe that's true," Flowers said.
"You're entitled to your opinion," Armstrong said.
Walter McElveen asked if the league had any alternatives to offer. "Are there no other ways to save the beach?"
"The groins and the seawall, those aren't saving the beach, they're saving the structures," Armstrong said.
Jeepy Ford, whose father-in-law developed DeBordieu, said the beach isn't in danger. "The houses are the problem. The beach is going to be there."
"The low-profile groins I've read about do have some success," said Philip Dulberger, who lives on the beachfront. He proposed the two sides find some common ground. "We all want to preserve the beauty that we have in South Carolina."