As Habitat's first senior cottage goes up in Georgetown, donors plan two more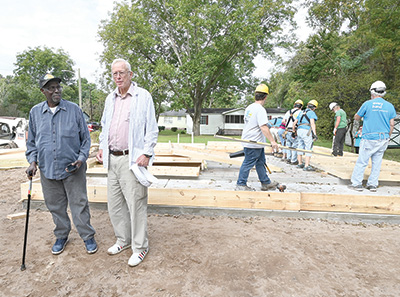 Wilson Dozier, left, and Forrest Meiere wait for the first wall to be raised at the first Habitat Cottage.
Volunteers finessed the first section of wall into place last week for the first Habitat Cottage, a new initiative that will provide decent housing for low-income seniors.
"Everybody says it's a tiny house," said Wilson Dozier, 80, who hopes to move in later this year. "It's big enough for me."
At 675 square feet, the Habitat Cottage is slightly larger than the 90-year-old house that Dozier lived in for over two decades. It was torn down to make way for the cottage, a program started by Habitat for Humanity of Georgetown County to mark its 30th anniversary.
Dozier had applied for Habitat's home repair program. Volunteers decided it wasn't worth the investment to fix the old house, where rain leaked through tarps that covered the back half of the roof. That led the chapter to create the cottage program.
A $41,000 gift from a long-time volunteer made it possible to start work on the first cottage as soon as the plans were ready. The federal grant process that Habitat normally uses doesn't even start until the spring, said Laura Gassler, the chapter's executive director.
"Because of that, we were able to build Mr. Dozier's house about a year and a half earlier than we had first planned," she said.
Not only does Habitat have the first cottage well underway, it has a commitment from Club 142, a progressive women's group, to fund the second cottage. The group is now raising funds toward a third, said Bettie Coltrane, a club member who used to work for Habitat in Charlotte.
The local chapter knew the cottages would fill a need in the community and attract a new group of donors, but was surprised by the response to the program.
"This is thrilling," Gassler said.
The Habitat Cottages cost $65,000 to build, using volunteer labor. Club 142 got $50,000 from an anonymous donor and started raising the balance. They raised $25,000 in the first month, and so set their sights on a third cottage.
Club 142 has over 500 members, and the donations so far represent just 7 percent of those, Coltrane said. A small group of members took part in a Habitat project in Puerto Rico following Hurricane Irma in 2017. She expects a larger number will volunteer to actually help with the cottages.
"People really come out when it's in their backyard," Coltrane said.
Forrest Meiere is the major donor for the first cottage. He is a retired physics professor and department chairman at Indiana University and Purdue University at Indianapolis. He worked for about 18 years with a Habitat construction crew.
"That was very satisfying," Meiere said. But he added that the people he admires most are the homeowners. "The clients for Habitat are really incredible people. I worked with them on the construction and got to know a lot of them. They're my friends, too. They are really the salt of the earth."
It's a common misperception that Habitat clients are given homes, Coltrane said.
While owners of conventional Habitat homes contribute sweat equity as well as assuming a mortgage, the cottage program is slightly different. Gassler expects that most of the cottages will be built on land that the clients already own.
The seniors will still have a mortgage, but it will carry no interest and be tailored so that payments will account for 25 to 30 percent of their income. That will include insurance and taxes, Gassler said.
The cottages will be energy-efficient and be handicapped-accessible so that the owners will be better able to age in place.
Dozier watched the walls go up at his cottage last week while sitting on a stack of roof trusses. He worked nearly 40 years installing tile in Washington, D.C., and Charleston before moving home to Georgetown County. "That's why my knees are giving out," he said.
Dozier's wife died in 2008 and his children still live in the D.C. area. But he still has plenty of family and friends in the county. If the weather cooperates, the Habitat volunteers want to get him into the cottage in time for Christmas.
"I'm so excited," Dozier said.