Hasty Point Plantation tract seen as eco-tourism hub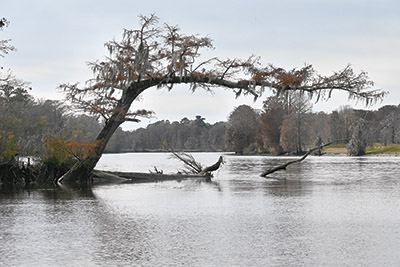 Thoroughfare Creek meets the Pee Dee River at Hasty Point. Below, the house overlooks the river.
Ray Funnye's ancestors used to travel by canoe and boat from Plantersville in the western part of the county to Sandy Island and Pawleys Island.
"That was the highway of heaven right there, back in the day," said Funnye, Georgetown County's director of Public Services and the founder of The Village Group.
Funnye wants to make sure the generations that come after him can make that trip, so he's helping with plans to turn Hasty Point, a plantation on the Pee Dee River in Plantersville, into a public recreation and education area that is accessible by water or land.
A series of public meetings begins next week to get input on what uses county residents would like to see on the property, which is now part of the Waccamaw National Wildlife Refuge.
Craig Sasser, the refuge manager, and his staff are working on the transformation of Hasty Point into a public area. Plans include a walking trail for people to explore the woods, and the creation of a history exhibit and interpretive center.
Funnye envisions Plantersville becoming the center of ecotourism in the county.
"This thing could be a game-changer not just for Plantersville, but for Georgetown County," Funnye said. "We have wonderful beaches, but after two days on the beaches you want something different. We've got it for you. Drive across the bridges and have an experience of a lifetime."
Hasty Point dates to the early 1700s when Charles Hart was granted 500 acres. When it was a working plantation where enslaved people harvested rice, Hasty Point was made up of more than 1,500 acres.
It it about 25 road miles from Pawleys Island, but just over 6 miles by water from Willbrook by way of Thoroughfare Creek, which winds its way from the Waccamaw to the Pee Dee along the west side of Sandy Island.
Hasty Point changed hands several times. It was once owned by Jesse Metcalf, a New York sportsman who also owned tracts on Sandy Island and at Willbrook. Robert Schofield Jr. purchased the 772-acre property in 1979. Schofield's son sold the property to the Waccamaw National Wildlife Refuge last year for around $5 million.
"He sold it, but he kind of gave it away too," Funnye said.
Much of the money for the purchase came from the Open Space Institute and Ducks Unlimited.
The institute then purchased a 237-acre tract next to Hasty Point from Schofield in January and will sell it to the refuge in the next few years.
"We're really looking forward to connecting Hasty Point up with Sandy Island and Brookgreen and developing some system where we can really do a good job interpreting … the travesties that occurred while a lot of this was being transformed into rice plantations with enslaved African-Americans," Sasser said during a talk last month at Brookgreen Gardens. "A lot of the cultural aspects have been carried over."
Sasser already planted and harvested Carolina Gold rice on the property. He expects to expand the fields, which are a habitat for ducks and migratory birds, next year.
"This was all a big experiment," Sasser said.
Sasser transformed 350 acres of the refuge near the campus of Coastal Carolina University in Conway into a public recreation area with bike and nature trails, boardwalks and a fishing pier. He envisions a similar setup at Hasty Point.
After his staff installed vehicle counters at the Conway park, they discovered it was getting 35,000 to 40,000 visits a year.
"We had no idea we were getting that kind of visitation," Sasser said.
Funnye and The Village Group hosted a camp on the Hasty Point property last summer for sixth-graders to learn about culturally-sustaining programs, aquaponics, the rice culture, the Great Pee Dee River and the surrounding habitats.
"Can you imagine having kids outside under the oaks trees draped with moss?" Funnye said. "That's the image we want to portray."
Once Hasty Point opens to the public, Funnye would like to see students from Georgetown and Horry counties use the property during the school year.
"Education is key," Funnye said. "These kids need to be informed."
Sasser and Funnye said the goal is to open Hasty Point to the public by December 2022, which is the 25th anniversary of the wildlife refuge.
"We're really looking forward to that celebration," Sasser said.
There will be a series of meetings in the next few weeks to get public input on the plans for Hasty Point.
"We're trying, as we go through the planning process, to experiment with different things to find out what's the best fit for combining Hasty Point with the different community opportunities," Sasser said.
The meetings are:
• Tuesday, Howard Auditorium, Georgetown;
• Dec. 9, Northwest Regional Recreation Center, 8259 Choppee Rd.;
• Dec. 13, Parkersville recreation center;
• Dec. 14, Andrews Regional Recreation Center, 220 S. Cedar Ave.
They start at 5:30 p.m.