Holiday display, though quieter, remains vivid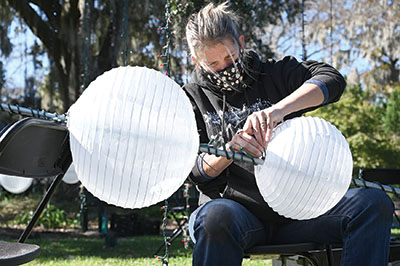 Janet Coen assembles one of 108 paper lantern fixtures for that are part of this year's display.
While the candles and lights are the most visible pieces of Nights of a Thousand Candles, other rarely noticed items are just as important.
"Fishing line, zip ties and electrical tape are the unsung heroes," said Jon McGann, who has overseen the Nights event at Brookgreen Gardens for seven years.
An expanded version of the annual light extravaganza opens Friday. This year there are 24 nights, instead of the usual 12, to offset capacity limitations due to the COVID-19 pandemic.
With fewer patrons, "it's a much more smaller, quieter, more intimate experience," McGann said.
Jimmy Brandt, a horticulturalist, was stringing lighted Mason jars with fishing line last week. This is his first year working on the event, although he saw it last year.
"I know how it works, but actually putting it together … ," he said as he tried to raise the jars to their correct height.
McGann said although many displays remain the same, patrons will notice a lot of new color schemes this year.
"A lot of colors people haven't seen before," McGann said.
Janet Coen, a public events associate, was part of a team that assembled 108 paper lanterns on poles.
"Last year, they were blue and white in another part of the garden," she said. This year, they will have a new look.
Displays of paper lanterns have also been added next to the Palmetto Garden and near the Brown Sculpture Court.
"It's really, really sharp," McGann said of the display near the garden. "They're really neat colors. I think people will like them."
New displays have also been added near the Wall Lowcountry Center.
"We've never done anything out there," McGann said. "I'm really impressed and happy with that."
Missing from this year's event are the Christmas tree and the indoor exhibits.
McGann said after six years the 80-foot Chinese fir needs a break from the stress of supporting hundreds of lights. There were
also concerns about social distancing due to the amount of people who gather around the tree every night for the lighting ceremony.
"We're trying to eliminate the large gatherings," McGann said. "That is the largest gathering spot of the evening and we're trying to avoid those scenarios."
Although the indoor galleries will be closed, the annual train exhibit will be on display. However, patrons will only be able to view it from outdoors.
Accompanying Nights of a Thousand Candles this year will be Field of Light, which was part of a Bruce Munro exhibit that was on display at Brookgreen all summer.
Located in the Arboretum, Field of Light features 13,000 lights that sway with the wind and change colors, as do the fiber optic strings along the ground.
"I've been looking at that since March," McGann said. "It still looks amazing. It's so mesmerizing. It hasn't lost any of its luster."
Brookgreen is one of three sites in the world with a Field of Light exhibit. The other two are in Australia and California.
The majority of the Munro exhibit was dismantled in mid-September, around the same time Nights was going up.
"That was a bit of a logistical challenge and a staffing challenge," McGann said.
Entertainment for Nights this year includes, the Paul Grimshaw Band, Rebecca Nissen, Prettier Than Matt, Ragland Road, Beach Brass Quintet, Painted Man, Palmetto Bronze, The Randy McQuay Band, and The 100 Grand Band.
Patrons over the age of 10 will be required to wear face coverings in all indoor areas, including restrooms, and are asked to maintain 6 feet of social distance.
If you go
What: "Nights of a Thousand Candles" at Brookgreen Gardens
When: Nov. 27-29, Dec. 2-6, 9-13, 16-20, and 26-31, 4-9 p.m.
Tickets: Adults, members $20, non-members $25; children, members $12, non-members $15. Children 5 and under get in free. Tickets are non-refundable and must be purchased in advance for a specific day.
For more information, including a full entertainment schedule, or to purchase tickets, visit brookgreen.org.