In Phase II, back to school really means school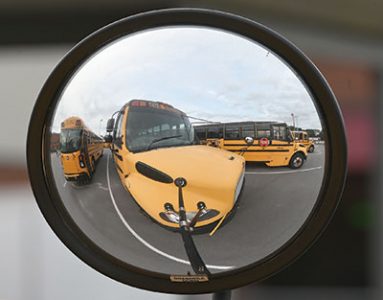 School buses will be back on the road Monday as the district begins a hybrid of in-person and remote learning.
With the state reporting positive COVID-19 tests at only two schools in the district, students are heading back into classrooms starting on Monday.
"While much work has been done, there is still much to do," Superintendent Keith Price said.
The state Department of Health and Environmental Control is reporting less than five cases of COVID-19 among students at both Waccamaw High School and Andrews Elementary School.
"Our latest DHEC reports still indicate that we are moving in the right direction with regard to our spread of this disease," Price told the school board this week.
The district's hybrid phase has one group of students in classrooms on Mondays and Tuesdays and distance learning on Thursdays and Fridays; and a second group in classrooms on Thursdays and Fridays and distance learning on Mondays and Tuesdays. Wednesdays are flexible days for both groups.
Parents should have received information on what group their child is in from the child's school.
The district is staggering the start time of schools to make sure there are enough buses to transport students.
Elementary school students will arrive at school 7:30 a.m. and be dismissed at 2 p.m.
Waccamaw Intermediate School students will arrive at 7:15 a.m. and be dismissed at 2 p.m.
Middle and high school students will arrive at school at 9 a.m. and be dismissed at 4 p.m.
Brent Streett, the district's executive director of food service and procurement, said students will be given meals to take home with them for the days they're not physically at a school.
Parents of students who are too young to carry meals home can stop by the school to pick up the food.
Streett reminded the school board that the U.S. Department of Agriculture is providing free meals for all students until Dec. 31.
On Tuesday, Price will announce which phase the district will be in for weeks five (Oct. 5-9) and six (Oct. 12-16).
The only phase after hybrid is "prime," which has students and teachers reunited in classrooms five days a week.
The decision to move into hybrid does not affect students enrolled in the district's virtual program, which will continue until at least the end of the first semester in January.
Genia Smith, the district's executive director of innovations and special programs, told the school board that 3,396 students are enrolled in the virtual program. The district has been fielding calls from parents who either want to move their children out of the program, or into it.
Those decisions are made by school principals, with class size as the primary concern.
"With constant changes and constant requests, I can't express clearly enough how challenging this has been and continues to be," Price said.
Streett said parents of virtual program students can pick up a week's worth of food at a time.
As of Monday, DHEC reported 275 cases of COVID-19 among public and charter school students in the state, and 139 cases among employees.
The COVID-19 numbers for individual schools are available at scdhec.gov/COVID19schools. The numbers are updated every Monday.
The only school you won't see bus traffic at is Coastal Montessori Charter, where students are learning virtually until the middle of November.
In other business, more than 86 percent of students in grades K-8 have completed the Measure of Academic Progress testing, which is required by the state.
"That exceeded even our expectations," said David Hammel, the district's director for accountability and assessment.
Of the 10,220 assessments that were completed, 7,043 were done virtually.
"One of our early efforts will be to take this assessment feedback, identify our areas of learning loss, and come up with specific plans for how we will address those needs," Price said.
The district was hoping that it would not have to do more assessment testing in the spring, but Price told the school board that the U.S. Department of Education has denied the state's request for a waiver.