Lucky 13 club gathers to relive aces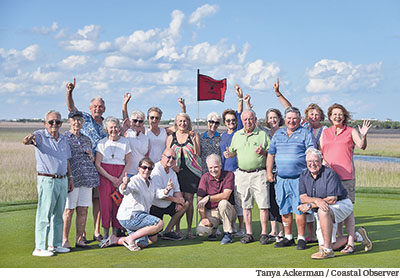 The aces at Palweys Plantation on the signature 13th hole.
Thirteen is not an unlucky number for at least 27 residents of Pawleys Plantation.
They have all had at least one ace on the 13th hole of Pawleys Plantation's golf course.
Some of the group gathered at Barb and John LoCascio's house near the 14th hole last week to share some adult beverages, food and laughs. Then they walked a short distance to the 13th green to relive their aces.
Although the hole only plays at 69 yards from the white tees, the green is mostly surrounded by the marsh. You have to hit the perfect shot or you're in the water, the players said. Thirteen also has tees that play from 115 and 145 yards.
"It's short yardage, but it's all carry," Barb LoCascio said. "You have to get the ball up but it's got to land and stop. It's either on the green or in the marsh or over the marsh."
Betsy Nemeth, a New Jersey native, has aced the 13th hole three times: in 2003, 2006 and 2007.
"It's a chip shot," Nemeth said. "It's pure luck."
Her husband also had a hole in one, but he can't be in the Lucky 13 club because his was on the 17th hole.
It's been 10 years since her last ace so Nemeth believes she is due for another one.
"It's just a interesting little hole," said Nemeth, who taught at Kensington Elementary School in Georgetown for a short time.
Dawn Wright, a North Carolina native, also has three aces on 13, in 2001, 2002 and 2003.
"I don't know why those particular ones went in," Wright said.
She also had a hole in one on the seventh hole.
Kathy Judge has had three aces on 13 and one on 17 spread out over almost 30 years.
Judge, also a North Carolina native, bought a lot in 1987 while Pawleys Plantation was being built, before the golf course even opened. She grew up visiting Pawleys Island and then starting bringing her husband with her.
"We just love it," Judge said. "It's where we wanted to be."
Mary Clay, a New York native, has two aces on 13. The first one came right before she and her husband joined the club in 2010.
"We were playing in the bunny hop," Clay said. "We didn't know anyone. I hit the ball and it went in the hole and I missed [seeing] it."
Clay, a nurse at the Smith Medical Clinic, had her second ace in 2017.
"It's up and down. You hit the ball and hope to stay on the green," Clay said. "You want to make sure it's not at a huge tournament because you have to buy drinks for everyone. You want to do it on a slower day and you have to have a witness. If you don't have a witness it doesn't count."
George Roletter retired in 2011 and moved from Washington, D.C., to Pawleys Island. He had aces on 13 in August and October of 2012.
"The first one, I hit and I never saw it because it was on the back of the green and it was just over the curve," Roletter said. "The second one, it bounced twice and went in. It was nice."
In 2014, Vince Skubish, a Pennsylvania native, used a nine iron because the wind was blowing in his face.
"It hit the front of the green and went in," Skubish said. "That's how 13 is. You usually hit the front and it rolls up and hits the stick and it falls in."
Barb LoCascio was one of the latest to join the Lucky 13 Club. She sank her ace on March 2.
"I was so excited," Barb said. "It just bounced once and went in. I screamed."
The LoCascios live in "The Nicklaus House," which is where Jack Nicklaus and his wife, Barbara, lived when he was designing the course. The house contains memorabilia from the golfing legend, including a picture of the LoCascios with Nicklaus when he visited in October to celebrate the course's 30th anniversary.
The LoCascios bought the house in 2001 when they retired and moved south from Chicago.
"It's kind of cool," Barb said.
Nemeth said Pawleys Plantation is a beautiful course.
"Each nine is a little different," she said. "The back nine is different than the front nine because there's more marsh than there is on the front nine."
Jack Benfield, a New York native, has lived in Pawleys Plantation for 30 years. Two of his four aces have come at the 13th hole.
"It's a pleasure to play here," Benfield said. "There's always something beautiful and always something to worry about."
He started playing when he was 15 by borrowing his mother's golf clubs.
"The clubs had wooden shafts," Benfield said. "It was like Bobby Jones days."
Benfield gave up golf when he was 80.
"I miss golfing but I watch a lot TV," Benfield said. "I have other things to do now. But I wish I had more things to do."