New plan for tech park calls for 90 townhouses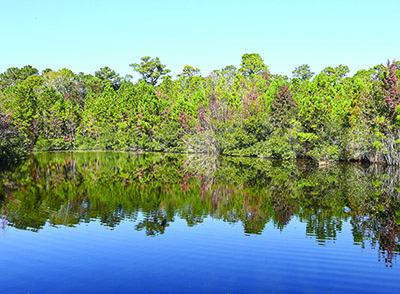 An existing pond will separate two clusters of townhouses.
A third townhouse development is being proposed for the Parkersville community at Pawleys Island. This one with 90 units is on the site of a vacant tract that Georgetown County had intended to use as a technology park.
The 14.5 acres on Petigru Drive was bought by the county in 2016 with a $950,000 loan from Santee Cooper. Plans for a tech park fell through when the county's partner, Mercom, ran into financial problems. Last year, the county proposed selling the property to Graycliff Capital Partners for $1.4 million. The company, which owns Litchfield Oaks and Waterleaf in Murrells Inlet, planned 182 apartments.
The Graycliff plan faced strong community opposition organized by the citizens group Keep It Green. After the Planning Commission voted unanimously to recommend denying a zoning change, the application was withdrawn.
The request to change the "planned development" zoning to allow townhouses comes from the county Economic Development Alliance, a nonprofit that holds the title to the property. The alliance is controlled by the county.
The plan submitted to the planning department shows two clusters of townhouses separated by wwetlands. There would be 38 directly off of Petigru Drive and the other 52 at the rear of the property.
The application notes that "a portion of the townhome units will be rented for below market value."
The plan designates 1.8 acres along Petigru Drive as commercial, but provides no building locations. Under state law, planned developments are required to have a mix of residential and commercial uses, but they don't have to be built at the same time.
After the Graycliff plan was withdrawn, Keep It Green asked the county to initiate a rezoning from "planned development" to "forest and agriculture," which would allow one unit per acre.
"They ignored us," said Cindy Person, attorney for Keep It Green.
County Council Member Bob Anderson also opposed the Graycliff plan. He said he was aware of the current request.
"Based on the existing site plan for the PD, it's mostly commercial," Anderson said. "I would be against anything that put more than 40 units on the property. I hope the people of the Waccamaw Neck would back me on that."
Area residents packed the county courthouse last month for Planning Commission hearings on two other townhouse projects: one on Petigru Drive with 56 units and one on Parkersville Drive with 53 units. Those sites are already zoned for multi-family development, so the commission's review was limited to compliance with the development regulations. It voted 3-2 to recommend that County Council deny approval.