Deputies will fill gaps in town police coverage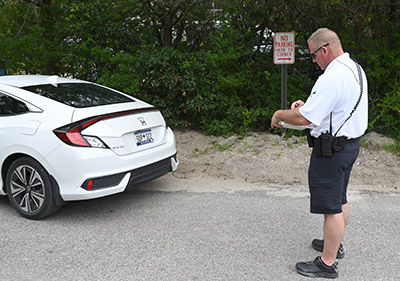 The town police will provide coverage 12 hours a day under the staffing plan approved by the council rather than the 20 hours currently provide.
Pawleys Island Police and the Georgetown County Sheriff's Office has come up with a plan to maintain police protection in the town after the police department is reduced to three members next month.
"I am prepared to assist the citizens of Pawleys Island in any way possible," Sheriff Carter Weaver said. "My purview is going to be to assist when they need assistance."
Town Council voted last month to reduce the department's budget from a staff of four last month, which provided coverage 20 hours a day. Sgt. Tracie Milligan is retiring and won't be replaced. The town expects to have an officer on duty at least 12 hours a day.
The council's goal is to reduce the police budget from $535,600 to about $400,000 annually and use the savings for capital projects, including future beach renourishment. The savings in the first year are projected to be $50,000 to $60,000.
Whether the town will save money under the arrangement depends on the volume of calls the sheriff's office handles.
"At the beginning," Weaver said, "it's going to be something that we naturally absorb."
As the joint coverage continues, "there may be a need for Town Council and County Council to discuss more permanent options," which would include funding for additional deputies, Weaver said. He told County Council last year that he wants to increase the number of patrol deputies to keep pace with growing population and tourism on the Waccamaw Neck.
"If it even leans slightly toward leaving some hole in coverage somewhere else" that conversation will have to take place sooner, he added. "I'm not going to allow that to decrease because the town made a financial decision that will benefit them."
Pawleys Island Police finished the year with 434 calls for service, down just under 3 percent from 2020, which had the highest volume of calls, 549, in the department's history.
The sheriff's office had 753 calls in the Pawleys Island-Litchfield area in December alone.
Chief Mike Fanning said the two agencies work well together, but there are town ordinances that the sheriff's office won't be able to enforce.
"The concierge policing that I call it, is going to suffer," he said.