Planners delay vote on resource protections to get more public input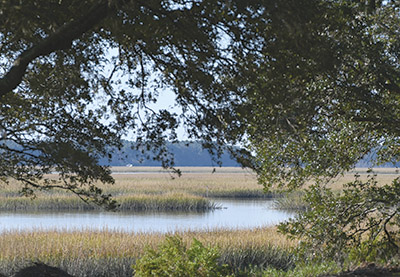 The draft plan calls for more protection of wetlands, waterways and trees.
A package of proposals to increase protection of natural resources in Georgetown County was put on hold last week so the county planning staff can get additional public input.
The natural resources element of the county's comprehensive plan has gone through five drafts since it was introduced in June. It is one of 10 elements of the plan that local governments are required by state law to create and update every 10 years. The county's last update was in 2010.
"This element has things that would give tremendous protection to the resources," Amy Armstrong, executive director of the S.C. Environmental Law Project, said at a Planning Commission hearing last week.
Among the goals are a local wetlands ordinance, stricter standards for rezoning property currently designated for forestry and agricultural uses, a "community forest" plan for the Waccamaw Neck, increased open space and increased access to natural resources. The plan recommends considering a 1-cent "green space sales tax" to protect land from development as well as restrictions on single-use plastics.
The commission needs to approve the element before it goes to County Council. The commission voted 3-2 last week to defer a vote after Marilyn Hemingway, founder of the Gullah-Geechee Chamber of Commerce, said there needed to be more public input.
"Make sure there is clear public engagement," she told the commission. "There is a habit here in the county of making decisions behind closed doors."
Hemingway noted that the element also calls for encouraging development outside of the Waccamaw Neck. She said community groups in the county need the chance to comment.
"I want to take a step back," she said.
Commission member Sandra Bundy also raised concerns that the entire comprehensive plan lacks a vision based on community input. But she supported moving forward with the natural resources element, pointing out the goal of enacting watershed management plans to reduce pollution is still lagging eight years after a plan was completed for Murrells Inlet.
"We need to have our wetlands and our marshes as healthy as possible," Bundy said.
Elizabeth Krauss, who chairs the commission, also favored approval.
"If we move on this, we get quicker to adopting new features," she said.
Commission member Zach Grate moved to defer a decision.
"Did you reach out to all demographics?" commission member Robert Davis asked the staff before offering a second.
Grate and Davis were joined by Zannie Graham in voting to defer. Commission members Marla Hamby and Johnny Weaver were absent.
Davis said he wasn't seeking more revisions, just "hearing voices in the community."
Matthew Millwood, a senior planner, based the revised natural resources elements on the results of a land-use survey last year in which 96 percent of respondents said protecting natural resources was important to them. It was the top priority for almost two-thirds of those surveyed. He got input from a range of environmental and citizens groups in preparing the five drafts.
Holly Richardson, the planning director, said she would contact people Hemingway thinks were overlooked. The plan will be up for another public hearing and a vote in November.