Property sale paves the way for repairing Hinnant Lane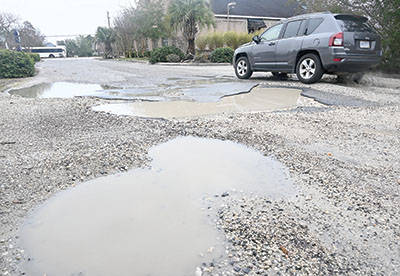 A driver avoids the worst of the potholes on Hinnant Lane.
The only holes left on Hinnant Lane by the end of spring should be those in the doughnut shop that will open on the corner.
The crumbling pavement on the private street that runs west from Highway 17 has been a source of public complaints for years. "This has been the most visible road and the most problematic," County Council Member Steve Goggans said.
But where others saw a chronic problem, Toni Ricker saw an opportunity in the form of the vacant Pastaria 811 restaurant building, strategically placed at one of the cuts in the raised highway median. She plans to open a branch of Parlor Doughnuts, a small but growing chain that began in Evansville, Ind., and will be coast-to-coast with the Pawleys Island location.
Ricker's husband, Josh, works for a corporate finance and leasing firm in Evansville. He brought Parlor's layered doughnuts home with him on weekends. "They were a day old," Ricker said, but she was still impressed. "It's more like a European pastry."
She went to the source. The doughnuts are made from scratch and the coffee beans roasted in house. The inspiration is the Cronut, created by the pastry chef Dominique Ansel at his New York bakery in 2013 as a hybrid of a croissant and a doughnut. Parlor's products don't have the trademarked name or the New York price.
"It's quality, quality, quality that people can afford," Ricker said.
She and her husband acquired the South Carolina rights for Parlor Doughnuts and envision expanding to Charleston and Myrtle Beach. But first, they have to get past Hinnant Lane.
"Most everybody here has stopped using it because of the way it is," said John Romic, president of the homeowners association at Pawleys Place. "About a year ago, somebody did some patching in there."
Romic, during a previous term as HOA president, even dumped a load of rocks leftover from a community project in the largest of the potholes. They didn't last.
"They have a drainage problem there," said Ray Funnye, Georgetown County's director of Public Services. He came with an improvement plan for the road after years of fielding complaints. He estimated that repairs would cost $40,000.
But since the road is private, the county won't pay for the improvements. None of the adjacent property owners claimed an interest in Hinnant Lane, although Ged Tiller, an original developer of the property between Hinnant Lane and Parkersville Road, said the road might have been in his name.
Ricker bought the restaurant site from Tiller for $750,000 last week.
"I don't own the whole lane, but apparently it's falling to me to improve it," she said. "Hinnant Lane is a mess. We can't have a drive-through" without fixing the road.
A site development plan prepared for Ricker by G3 Engineering shows the parking lot behind the restaurant will be removed to create a drive-through and and new parking spaces with pervious pavement.
Two sections of Hinnant Lane with the most notorious potholes will be replaced.
"We did a whole drainage assessment," Ricker said. "It was slightly less than what I estimated."
If the work is done to county standards, it will accept Hinnant Lane as a public street.
"We offered to take it if whoever owns it did the improvements," Funnye said.
That was news to Ricker, who added that she was pleased to hear it.
"People have said, 'What are you going to do about Hinnant Lane,'" she said. "I didn't know it was such an issue."
What made the street hard for the county to fix is the policy that should keep Ricker from having to maintain it in the future.
"As of today, the policy is if it meets the subdivision and road design criteria, they will accept it," Goggans said of Georgetown County.
The county didn't want to do the work on a private street, even one that serves as an access to Highway 17, for fear it would set a precedent.
"We've got several of these around the county, mostly in subdivisions or we'd hear more about them," Goggans said. "Just like the state, the county isn't looking to take on more streets necessarily."
While he was pleased that problems with Hinnant Lane are headed toward a resolution, Goggans pointed out that the county is likely to face the same issue as it starts taking a closer look at drainage systems as part of a stormwater master plan. If improvements are needed, the county needs to "end up with an entity that we can ensure is going to maintain the systems."