Residency becomes issue as town holds elections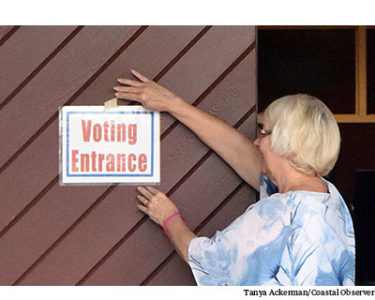 The polls will open at 7 a.m. on Nov. 5 at Pawleys Island Community Church.
As the town of Pawleys Island gears up for a November election for mayor and four council seats, Mayor Jimmy Braswell this week asked the town attorney to review the residency requirement for candidates. "I think we just need to clear that up, with the Austin Beard debacle," he said.
Beard resigned his seat on Georgetown County Council this spring after his residency in District 5 was challenged by the local chapter of the NAACP. At a hearing before the county Board of Voter Registration and Elections, Beard testified that he had rented a home in the district before filing in 2016, but never lived there. The board voted 8-0 that he was improperly registered to vote. Beard's appeal to Circuit Court ended with his resignation.
Braswell, who is seeking a second term as mayor, told Town Council he would like to know what that means for Pawleys Island. "It caused a huge stink and it's something we need to clarify," he said.
Woody DuRant, the assistant town attorney, said he would prepare a memo on the subject.
The discussion came hours after Brian Henry, owner of the Sea View Inn, filed to run for mayor. Henry also has a home on the mainland. He said he is registered to vote at the inn, which is the address on his driver's license and his vehicle registrations. "I spend the night there three or four nights a week," he added.
Under state law, a mayor and town council members must be "qualified electors" in the municipality. The state also defines a person's residence as their domicile, "a person's fixed home where he has an intention of returning when he is absent." Voters are only allowed one domicile.
While the county election commission decided Beard didn't live at the place where he was registered to vote, it didn't have the authority to remove him from County Council. In municipalities, state law provides that mayors and council members forfeit their office if they lack the qualification to serve. The council is empowered to "be the judge of the election and qualification of its members."
Council Member Guerry Green, who filed this week for a second term, has a house on the mainland as well as one on the island. "I didn't take it personally," he said of Braswell's inquiry. But he noted "that has not come up until there was competition for the mayor's race."
Green is also registered to vote at his home on the island, which is the address on his driver's license. "There are a lot of similar people to me, like Ashley, who have another house," he said.
Council Member Ashley Carter, who is also running for re-election, has a house in Georgetown. "My house on Pawleys, even though I don't live there year round, it's still set up as my primary residence," he said.
He rents his house in the summer, as does Green.
"Ashley lives on this island when he's not renting his house. I can't say that for anybody else," Braswell said. That's why he asked the town attorney for guidance, he added. "I have had people ask me about it."
Filing for the Nov. 5 election closed Thursday at noon. Council Members Sarah Zimmerman and Rocky Holliday also filed for re-election. Leda McIntyre Hall and Josh Ricker filed for council seats. Hall ran unsuccessfully in 2017. Ricker chaired the town's ad hoc committee that looked for ways to fund beach renourishment.