Sheriff makes case for eight more patrol deputies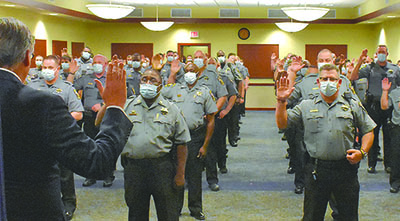 Weaver, left, swears in deputies after taking office in January.
Sheriff Carter Weaver wants to add eight patrol deputies this year and wants Georgetown County Council to reinstate merit pay raises to help keep them.
It would be the first increase in patrol deputies in 15 years, although deputies have been added for schools, traffic enforcement and a beach patrol through grants. The county has also added deputies for security at the judicial center and at the county offices in the old courthouse.
"I'm not here today to scare you with ominous reports of lawlessness if you fail to act, but I am here to say that the issues I have laid out will not fare well for Georgetown County if not addressed prior to July 1 or shortly thereafter," Weaver told council members this week.
The new deputies would amount to a 20 percent increase in the number assigned to patrols. Weaver said that's justified by growth in the county, whatever way it is measured.
He told council members that he wants the county to develop a metric that will trigger the hiring of new deputies.
"The sheriff's personnel numbers must keep up with growth and calls for service. To date, they have not," Weaver said.
Since 2006, the calls for service have increased by over 38 percent, according to figures compiled by the sheriff's office.
In 2006, the average patrol deputy handled 725 calls for service during the year. Last year, the number of calls per deputy was just over 1,000.
The county population is estimated at 62,680 prior to last year's federal census. Based on the number of building permits issued, Weaver said he could make the case that the county's population is over 87,000.
He could also argue that with tourism the daily population is over 100,000 for most months.
"That's an unrealistic number," he conceded.
But the county needs to have a way to define its future need for patrol deputies.
Adding eight deputies would mean 1.3 patrol deputies for every 1,000 people. To maintain that, the county would need to add four patrol deputies for every 3,000 person increase in population, Weaver said.
"Is it population? Is it building permits? I don't know the answer," Weaver said.
He wants the council's Justice and Safety Committee to help decide.
Weaver wants to add the new deputies in the 2022 fiscal year, which begins July 1. His request comes as the council prepares to adopt a new budget.
While Weaver didn't present a cost estimate for the additional deputies, figures presented to the county last year for adding two members to the beach patrol put the annual cost of each deputy at $62,860, including the salary, benefits and other costs.
That would put the cost of eight deputies just over $500,000.
To help recruit and retain deputies, Weaver wants to return to a system that allows the sheriff's office to give up to 3 percent annual pay increases for merit. Those would be in addition to cost of living increases approved for all county employees, he said.
Weaver wants to start the merit increases for employees with five years of experience because the sheriff's office typically loses staff after four years.
The cost of those increases would be $170,000 if every employee qualified. The actual cost would be less, Weaver said.
"If you come to work and do your job every day, you're meeting expectations, you're not exceeding expectations. You will not receive the 3 percent maximum," he said.
Deputies will be evaluated by a rubric.
Currently, deputies get a step increase after two years. "But nothing after that," Weaver said.
Retaining employees will stabilize recruitment, he added.
"That's the system we had 20 years ago," Weaver said of the merit raises. "That's what attracted me to Georgetown County. I left a state agency to come here."
He served as assistant sheriff until the death of Sheriff Lane Cribb in 2019. He was appointed sheriff and then won a special election and a general election.
After winning a four-year term last November, Weaver said that adding deputies and raising pay would be his top priorities.
Council took no action on the request.