Storage facility will trigger 'big-box' rule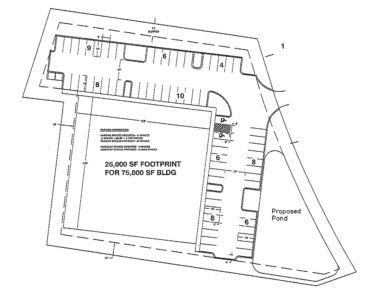 A three-story self-storage facility proposed for a site on Waverly Road exceeds Georgetown County's limit on building size by 25 percent. And even if it is reduced from its planned 75,000 square feet to the 60,000-square-foot maximum, the building will have to meet the design standards for commercial facilities along the Highway 17 corridor on Waccamaw Neck, according to the county planning director.
The owner of the 1.8 acre pacel at the corner of Waverly Road and Gage Lane is asking the county for a variance to the parking requirements, which it says are "excessive." The county Board of Zoning Appeals will hear the issue today.
Boyd Johnson, the county planning director, said the appeals board isn't the forum to change the parking requirements. That should be done through the Planning Commission and County Council, he said.
Steve Strickland, principal in the Earthworks Group, said in his appeal on behalf of the owner, Paul Saylor, "The current parking standard also limits the building size to limit economic feasibility of having full time management staff and improved architectural details for self-storage facilities."
The county requires one parking space for every 1,000 square feet of floor area. Saylor wants that reduced to one space for every 1,000 square feet. That will reduce noise and lights and help buffer the project from neighbors, Strickland said.
Since the county has determined that the architectural requirements of the overlay zone apply to the project, Strickland argued that meeting those criteria constitute a hardship, one of the requirements for a variance.
Johnson said there is no hardship because the property is undeveloped and available for other uses in the "general commercial" zoning district.
"The applicant could construct a smaller building on the site as opposed to a structure that would be considered a 'big box' structure by the county," Johnson said in his report to the appeals board.
The county allows buildings up to 45,000 square feet in the overlay zone. Buildings up to 60,000 square feet can be built with approval from County Council following review and a hearing by the Planning Commission.
Johnson said he hasn't received an application for the building project, only for the variance to the parking requirement.