Sylvester brings family's 5-week search to a close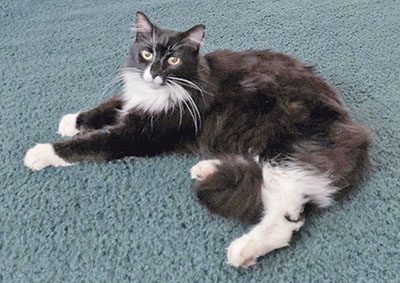 Sylvester made the trek from Litchfield Country Club to Ricefields in five weeks.
Like a magician, Sylvester the cat keeps appearing and disappearing.
His latest appearance is an early Christmas present for the families that have loved him for almost a decade.
Five weeks after wandering off from a house in Litchfield Country Club where he was placed for adoption, Sylvester showed up this week at his former home in Ricefields.
A neighbor spotted Sylvester on Monday in the driveway of the home of his late owner, Jack Haugh. Sylvester had lived there by himself, with daily visits from Haugh's daughters, since Haugh's death in August.
Sylvester was placed with a family in Litchfield Country Club for a trial adoption, but wandered off in early November.
Sylvester was thin and had a few scratches to show from his travels.
"It's very surprising," said Helen Hesterfer, who first cared for Sylvester when he showed up at her home in Ricefields in 2011. "He made it five weeks on his own and he made his way home in the driveway. It's just really special."
Haugh's daughters, Judy Groves and Linda Sacchetti, searched every day for Sylvester since his disappearance, even posting signs around the area.
"I can only say that it was just a feeling of resolution," Groves said after someone sent her a photo of Sylvester at home. "We knew at that time that he was safe and made it back home. It was great relief."
Groves found Sylvester asleep inside the house. A neighbor with a key let him in and fed him.
Sylvester has been very skittish since returning home, and it took an hour to get him to relax enough for a veterinarian to give him a checkup, Groves said.
"He had a few minor lacerations around his chin. No other obvious injuries," she said. "His main challenge now is resting and regaining his stamina and putting on the three to four pounds that he lost."
Hesterfer and her husband, Bob, were on their way home from North Carolina on Monday morning when they heard a song on the radio about the cartoon characters Sylvester and Tweety.
"I didn't know what it was a sign of," said Hesterfer.
When they arrived at their home in Ricefields, they listened to the message from Groves about Sylvester's return.
"My initial reaction was to cry," Hesterfer said. "I said, 'Oh my God I can't believe it,' and said a little prayer of thanks that he came home. It was perfect."