Town planners approve rules to limit cutting trees for new homes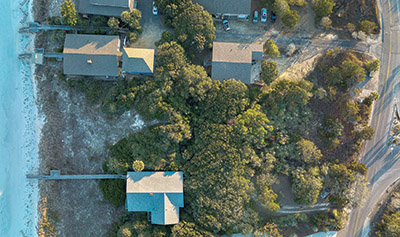 Trees 4 inches in diameter and above would need ARB approval to be cut.
A proposed tree ordinance for the town of Pawleys Island would protect trees with trunks of 4-inches or wider, but only for new houses.
The Planning Commission approved the ordinance last week. It now goes to the Town Council.
Tree protection and landscaping were among the topics proposed when the town created an Architectural Review Board in 2021. The elements were not included because officials wanted to move cautiously as they created guidelines for the look of new houses on the island.
The issue resurfaced after some trees were cut as part of the construction of a new house on the island's north end.
The commission recommended the town adopt a tree and landscaping ordinance and add those topics to the guidelines that the ARB uses when evaluating new homes.
The ordinance would require a tree survey for all "new developments." It would need to show all trees over 4-inches in diameter – measured at a point 4 feet above the ground or "breast height" – and show the size and type of trees that would be removed.
The ordinance requires ARB approval to remove trees unless they are diseased, an invasive species or interfer with the health of other trees.
Trees can be removed from the buildable area of a lot, but the ordinance allows the ARB to require mitigation "at its discretion."
Replacement trees must be native species, no smaller than 4 inches in diameter and be planted within six months.
The ordinance also allows the ARB to require replacement trees be planted on public property if there isn't room on the owner's lot.
The fine for cutting a tree without permission is $500 for each inch of diameter.
The proposed ARB guidelines encourage preserving trees, landscaping with native plants and maintaining natural buffers. They discourage thinning the canopy in maritime forests, clearing lots for sale and using artificial turf.
"A lot of this is going to be educational," said commission member John LaMaster, who drafted the ordinance.
But he also believes it is enforceable.
"It just puts it out there to make people aware," commmission member Fran Green said. "We're concerned about this."
Commission member Robert Moser moved to recommend the ordinance and guidelines to Town Council. The vote was unanimous.
"We need to move on this so people know we're interested," he said.