Variant's surge raises fears as schools reopen minus mandate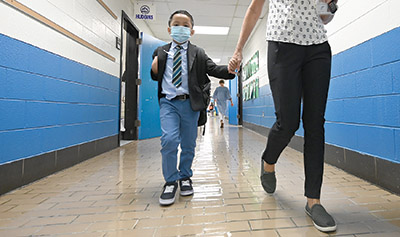 Joseph Hernandez is escorted to his kindergarten class at Waccamaw Elementary on opening day.
Georgetown County schools opened Wednesday with 176 students and 10 staff members in quarantine due to the spike in COVID-19 cases caused by the Delta variant. Under state law, school districts cannot require that masks are worn inside schools.
"We were hopeful that the COVID impact was mostly behind us, but it looks like it will be a part of us for the foreseeable future," Superintendent Keith Price said. "While the law states that masks will not be required, we still strongly recommend mask use when inside school buildings based on CDC and DHEC guidance."
School Board members said they are worried.
Lynne Ford, who represents District 6, hopes parents consider other children and school staff when deciding whether their own children wear masks at school.
"I want to be excited about this new school season because the district and everyone here has worked really hard to do so with some great ideas and innovative processes to help learning be fun and be really effective," Ford said. "But I'm also very scared about what could possibly happen in the coming days, especially for our elementary school students."
Bill Gaskins, who represents District 5, believes COVID-19 remains the biggest challenge the district will face this year. He is a supporter of vaccinations.
"I wish we could have students wear masks. I wish we could mandate that because I am really, really concerned as we move into the school year," Gaskins said. "Hopefully our parents will get our kids vaccinated. I think we all have to do our part in this as we move forward."
Arthur Lance Jr., who represents District 7, asked everyone at this week's board meeting to pray.
"I just don't want to see the schools shut down again. I don't know if I could take another year of seeing these kids tortured through the virtual learning," Lance said. "I would hate to see that happen again. It would break my heart."
Last week, 121,000 children in the state tested positive for COVID-19, according to the South Carolina chapter of the American Academy of Pediatrics. An average of 8,000 children a week were testing positive in late June.
Gov. Henry McMaster has repeatedly said that parents should decide whether their child wears a mask in school.
State Superintendent of Education Molly Spearman disagrees.
"I do believe that this issue is best handled by local school boards," Spearman said. "We have got to have a solution to this. Our schools are starting, our educators are worried and we have parents who are very, very concerned, as I am."
Eight parents this week urged the Georgetown County School Board to require that masks be worn inside schools.
Jonathan Paris, a Ricefields resident, said people need to stop fighting over masks and fight the virus.
"You guys are elected to represent us, you know our community. You're us, you're part of our community," Paris said. "I know that I trust you guys to make the right decision and hope that you can within the constraints of what you have to deal with."
Alicia Cooper, who lives in Carvers Bay, said children need to know that sometimes choices are made for them.
"We don't want your apology later that you didn't make that decision for them," she said. "We want you to be proactive and not reactive as a board of education."
Board Member Pat DeLeone, who represents District 2, believes the mask decision should be made by parents. She also pointed out that many people are not using masks correctly.
"Unless you put a fresh mask on every day, it's not going to do any good," DeLeone said.
Spearman acknowledged that masks do not guarantee that COVID-19 won't spread, but said at least people would be doing everything possible to try to prevent it.
"We're better than this. We're smarter than this," she added. "Parents, please listen to your doctors. Let's not go by what we read on social media."