WHS advances in softball playoffs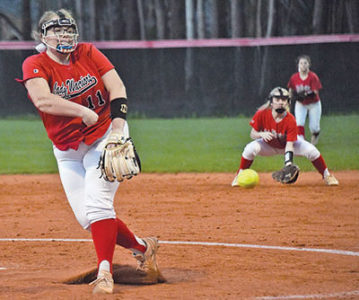 Casey Pelasara, seen earlier in the season, had a lead-off double in the playoff opener.
Waccamaw High's softball team outlasted Swansea 1-0 on Thursday night in the first round of the Class 3A Lower State playoffs.
"The kids played well," Warriors coach James Graves said. "It was a good ball game. Both teams played hard and played well. Neither team hit the ball very well."
The Warriors scored the only run of the game in the bottom of the sixth inning. It was also the only inning that Waccamaw sent more than three batters to the plate.
Pelasara led off with a double and was replaced by pinch runner Remi Luckiewicz, who advanced to third on a bunt by Kaylee Jordan, and scored on a sacrifice by Emma Parler.
Parler and Lauren Knight, Swansea's pitcher, are cousins. Parler said there is a family rivalry there.
When they were growing up there was a lot of pressure on them to see who was the better player.
"That's what it was like for the first at-bat. It got in my head," Parler said. "That's why I couldn't produce. The second at-bat I was like, 'it's just another pitcher.'"
Pelasara's double was one of only two hits for Waccamaw in the game. Megan Dallas had a single in the bottom of the first inning.
"We didn't hit the ball well but that could have had a lot to do with their pitcher," Graves said. "We've got to hit the ball better."
Pelasara struck out four and allowed five hits and got the win.
"I feel like we all played well," Pelasara said. "It was exciting. … Everyone played hard and did their best."
"If we can beat Swansea I feel like we can beat anybody in the tournament," Parler said.
Waccamaw will play at Aynor on Saturday at 2 p.m. The Blue Jackets, who beat Ridgeland-Hardeeville 19-0 on Thursday night, are the No. 1 seed in District VI. The Warriors are the No. 2 seed.
"It will be a tough test but it will be a good experience for the girls," Graves said. "They're just a quality ball club [with] quality coaching."
"I know that Aynor will be a little bit more tough for us," Pelasara said. "But I feel like as long as we don't already psych ourselves out before we go and we just play our best and play as a team than we'll have a chance just like anyone else has a chance."
With a win at Aynor, the Warriors will host the district championship game on Wednesday night. With a loss, the Warriors will host an elimination game on Monday night against the winner of Saturday's Swansea/Ridgeland-Hardeeville game.