World champion finds the spotlight is the new normal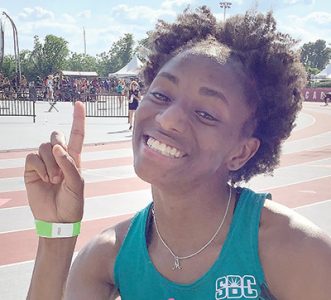 Melissa Jefferson turned pro after a break-out junior year at Coastal Carolina.
Melissa Jefferson is a world champion and a national champion. But the 21-year-old wants to be known as "a regular person."
"I guess I'm far from that nowadays," Jefferson said.
She will start training next month for her first full season as a professional runner. She made the move after winning the 60-meter title at the NCAA Indoor Championship and the 100 meters at the U.S. National Championships.
Then came her world title as the opening leg of the U.S. team in the 4×100 at the World Athletics Championship in July.
Jefferson grew up in the Dunbar community in western Georgetown County. She sang, played the saxophone, watched '90s TV shows and, of course, she ran.
Running became Jefferson's "escape" over the years. But she didn't just run for fun, she excelled. At Carvers Bay High, Jefferson was a four-time All-State and All-Region selection, won the state title in the 100-meter dash her senior year and holds the school records in the 100-meter dash and 200 meters as well as the long jump.
She won the 100-meter dash title just months after donating stem cells to her father for his bone marrow transplant.
"I joke with [my dad] all the time, I say, 'Daddy, you better know that I love you because I hate needles,'" Jefferson said. "But just having the opportunity to be a part of the reason he's still here today is really special."
"She's amazing," said her father, Melvin Jefferson.
Jefferson had to make sacrifices during her senior year, deciding not to play volleyball or return to the basketball team or the marching band, but looking back on them, she says "if I had continued doing those things, I probably wouldn't be where I am today."
"I took that time to really think about what I want to do for my future, and I knew that I wanted to run track in college." Jefferson said.
Both Melvin and his wife, Johanna, have been involved throughout their daughter's career and life, going to meets with her all across the state.
"She was all over the place," said Melvin Jefferson. "It was awesome to be able to do that."
During her breakout junior year at Coastal Carolina University, her parents didn't get to attend a majority of her championship races.
"But we got to go when it counted," Melvin Jefferson said.
They were at the World Athletics Championships in Eugene, Ore., the first time the event was held in the U.S.
What launched Jefferson into national stardom was the NCAA Indoor Championship in March when she surprised the field, and herself, with a 7.09 win in the 60-meter dash. She opened the season at 7.29.
"I didn't expect me to win," Jefferson said. "It's not that I didn't think I could do it, but I just wanted to go out there and do my best, and me going out there and doing my best ended up winning, so I'm grateful for that."
That race put Jefferson on everyone's radar going into the outdoor season. Jefferson admits that she felt the pressure.
After the indoor championships, she said there was an entire week where she felt "mentally drained." She had trouble sleeping and getting out of bed to go to classes.
Track is "normally the place I go to relieve any stress that I'm feeling, like, I have a lot of attention on me there now," Jefferson said. "It felt like track wasn't my escape anymore. That was kind of scary for me because I love what I do and I would hate to stop loving what I do or just quit what I love to do because I couldn't handle the pressure."
But Jefferson was able to regroup with encouragement from friends and put together some great performances during the outdoor season, one of which came against Allyson Felix, the most decorated track and field U.S. Olympic athlete of all time and Jefferson's idol.
In April, Felix ran her first 200 meters of her final season as a pro against Jefferson at the USC Outdoor Open in Columbia. Jefferson and Felix ran in adjacent lanes, with Jefferson a few meters ahead at the beginning of the race. However, Felix pulled ahead in the last 50 meters and crossed the line first with a time of 22.40. Jefferson was right on her hip, finishing second at 22.46.
"I thought it was really special because not only did I get to run against her in her last year as a professional, but we actually ended up making the same USA team" at the World Championships, Jefferson said. "That's something that I will forever cherish because she's paved the way for me."
It isn't just Felix's speed that Jefferson admires.
"The way she carries herself and the way she goes about handling situations, that's something. I want to be like that," Jefferson said.
Despite not getting the result she wanted at the NCAA Outdoor Championships, finishing eighth in the 100-meter dash and 200 meters, Jefferson won the 100-meter title at the USA Track and Field Outdoor Championships, which qualified her for a spot on Team USA.
"One of my goals this year was to make it to Team USA, so I knew I could do it," Jefferson said. "I knew and kept telling myself, OK, Melissa, you can make the team. You just gotta focus on yourself, focus on your lane, don't worry about anything else that's going on around you."
At the World Championships, Jefferson was the lead leg for the 4×100 meter relay team that stunned the Jamaican squad to take gold. She also made it to the finals in the 100-meter dash, finishing eighth and cementing herself as one of the fastest women in the world.
"Even though the 100 didn't go the way I wanted it to, at the end of the day, in that moment, I couldn't be upset with myself because I could feel everyone's love back home and how proud they were of me," Jefferson said. "Having the spotlight on me sometimes can be overwhelming. But I'm getting better at it and I'm learning how to maneuver through it because, like I said, the stage is only going to get bigger."
Right now, she's "chilling out" while taking three classes at Coastal Carolina this semester to stay on course to finish her degree in public health.
"It sometimes feels like I don't really understand the magnitude of what I've done because it's just not me. I'm always looking forward to what's next," Jefferson said. "Don't get me wrong, I'm trying really hard to just take in the season and what I've done, but I don't know if I ever will. I probably won't until I'm done running – in like 15 years."