10,958 days later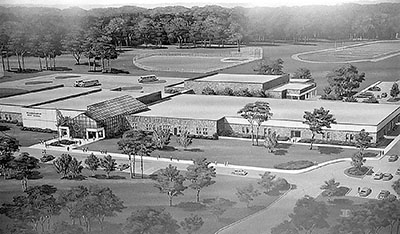 A rendering shows the original design and layout of the WHS campus.
The Principal | Making the new seem more familiar
When students walked through the doors of Waccamaw High School for the first time on Aug. 27, 1990, the staff wanted them to feel at home.
"We wanted it to be like it was the 181st day of school," said Burke Royster, who was principal at the time. "Students coming in there, while they would benefit from it being the first of everything and all being new, they wouldn't feel like strangers. They would feel like they were coming into a place where they had been in school last year."
That day was the first time Pawleys Island kids didn't have to travel to Georgetown or Socastee to go to high school. Up until then, kids went to the Waccamaw School through eighth grade and then attended either Winyah, Howard, Georgetown or Socastee high schools.
Since there were not enough students – including no seniors – to fill a traditional high school, the opening day population of WHS had 215 students in seventh and eighth grades and 260 in ninth through 11th grade.
About two-thirds of the original WHS staff transferred from the Waccamaw School and Georgetown High.
"That's another one of the unique opportunities and one of the challenges," said Royster, who is now the superintendent of Greenville County Schools.
"You're bringing together a faculty that has never worked together before."
Royster attended a meeting at the Georgetown Library with Superintendent Cliff Dodson, Deputy Superintendent Jonathan Moultrie, district personnel director Tommy Burbage, principal Carl Hughes of the Waccamaw School and principal Nick Gaspers of Georgetown High.
By the end of the day they had decided which teachers would be transferring to the new school, and how many teachers they needed to hire.
"It was really sitting around in a room negotiating what persons, and really more importantly, what positions you would take from the two schools whose enrollment was dropping, and what positions you wanted to be able to hire without having to necessarily take a transfer," Royster said. "When you think about the athletics and the extracurricular programs you have to run, you have to make sure you have people who can do those jobs, as well as teach. That's a part of the mix of that discussion."
Royster said hiring the right teachers was the most important decision the district made about the new school.
"The single greatest factor to student achievement is a quality teacher," he added.
Groundbreaking for WHS was in September 1988 and construction began shortly thereafter. Royster was hired in November 1989 and began working in January 1990.
When WHS opened, River Road, as it was called then, was not paved. When it rained, the sheriff's deputies would restrict traffic to one way from Waverly Road to Heritage Plantation because the flooding was so bad you had to drive down the center of the road.
"We even had them bring a wrecker up so they could tow people out of the way if they somehow got stuck or slid out of the road," Royster said.
Sometimes students would be sent home early when the road was flooded. River Road was finally paved in April 1991.
The school had no outdoor athletic facilities when it opened. The junior varsity football team practiced and played at the Waccamaw School because the county's Parks and Recreation Department also used that field so it had lights.
By its second year, WHS had more athletic teams than any other Class A high school in the state, according to Royster.
School staff, parents and students teamed up to raise money to build baseball and softball fields, and even did some of the work themselves.
"There were a lot of things that happened early on that helped set the stage for there being a quality program, and that took a lot of effort on the part of a lot of people," Royster said. "There was just community support for that school. I feel sure that still exists today."
The teacher | Last of the original staff is still at work
Thirty years after Waccamaw High School opened its doors for the first time, Cara Cook is the only original staff member that remains.
"I love that school," Cook said. "A lot of people have come and gone, but it still has a strong foundation of the importance of family and support."
Cook was Cara Heiginbotham when she moved from Ohio to Pawleys Island in 1987 to teach seventh- and eighth-grade special education students at the Waccamaw School, which housed students in kindergarten through eighth grade.
The county Board of Education had just approved a high school for the Waccamaw Neck that would include students in grades seven through 11.
Cook applied for a job at WHS because if she had stayed at the Waccamaw School she would have taught younger students, which she didn't want to do.
Changing schools was "nerve-racking," Cook said, but it helped that she would be teaching the same students.
"For me it was just a change of a principal and a change of location, but my students were the same," Cook said. "In special ed you keep the same kids. That's a luxury."
Cook described WHS as "clean, pristine and very modern" when it opened.
"It was a beautiful building and it was just very eye-appealing I think for a lot of people," Cook said. "Everything was carpeted, which we thought was great at the time."
There was a strong sense of family in those early years, according to Cook.
"We were all very, very close," she said. "We were very much a family unit because we were a small group of people."
Although the number of teachers has increased over the years, the sense of family remains, Cook added.
Burke Royster, the school's first principal, was always the first one in every morning. Teachers arriving at 6:15 a.m. would find Royster already enjoying his first cup of coffee.
"We always tried to beat him there," Cook said. "We never could."
Cook described Royster, who is now superintendent of Greenville County Schools, the state's largest district, as demanding, but very fair. "Professional expectations were very, very high," she said. "You didn't want to disappoint him. It was like disappointing your dad."
Cook believes professionalism has changed a lot since she started teaching.
"There was a lot more job commitment and willingness to please your boss and go the extra mile and put in the extra time," she said. "Because they did."
As she starts her 33rd year with the school district, Cook has no plans to stop teaching, although she retired and is now an "at-will" employee.
"As long as I feel I can contribute and be a strong part of someone's life to help them achieve what they want to achieve, there's no point in going anywhere," she said.
Dennis Lee, the school's first football coach and athletic director, also still works for the district at Georgetown High School.
The students | New home with old friends
The first students at Waccamaw High School may have been in a new building, but they weren't strangers.
Most of them had grown up in Pawleys Island and been classmates from the time they were in kindergarten.
"Back then Pawleys was a small community," said Hannah Jacobs. "Everybody knew everybody. You couldn't do anything without everybody finding out about it."
"It wasn't chaotic, it wasn't nerve-wracking," Blaine Harvey said about going to the new school. "It was a sense of relief."
"It was as overwhelming as any kids going to any school. The only thing we had was that it was new to everybody," said Will Dieter. "It was a fun time to be there. The school was really growing up."
Both Jacobs and Harvey entered WHS as sophomores after spending their freshman year at Georgetown High School.
Harvey said it was hard for Pawleys Island kids at Georgetown, especially if you were an athlete with a goal of eventually playing on a varsity team.
"The kids from Georgetown didn't make it easy on us," he said. "There were a lot of opportunities that were opened back up to us at Waccamaw that weren't there at Georgetown."
The school district paid for the construction of the building, but not the addition of athletic fields.
"We didn't have any facilities," Jacobs said. "We did have a gym so all the indoor sports were good."
Outdoor sports, like football, practiced and played at the Waccamaw School, which is now Waccamaw Elementary.
Dieter wanted to play baseball for Waccamaw, but first he had to help build the field.
"We were literally putting the bricks in the dugouts and laying the sod on the field," Dieter said. "When we got the new clay for the infield we had to go through and pick the rocks out of it."
Dieter entered WHS as a seventh-grader. His was the first class to go for six years at the school, which kept its seventh- and eighth-graders until 2001 when Waccamaw Middle School was built.
Harvey played tennis for Waccamaw. He said if the Pawleys Island players had stayed at Georgetown, the school probably would have a won a state title.
Waccamaw's major athletic victory of his sophomore year was his team's win over Myrtle Beach.
"They were a state power at the time," Harvey said.
Jacobs said Pawleys Island was a different place when Waccamaw High opened.
"When I was a kid, you were poor if you lived in Pawleys," she said. "All the rich people lived in Myrtle Beach or Georgetown. Pawleys was nothing."