25-vote margin determines winner in school board race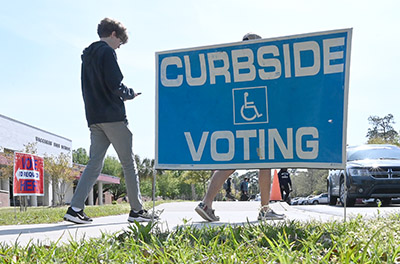 Pawleys Island 5 at Waccamaw High had the most votes cast in the election.
Kathy Ferdon-Anderson was elected to the Georgetown County School Board on Tuesday, despite trailing her two opponents on the Waccamaw Neck, where just over half the votes were cast.
"It's been a good experience, it's been fun and exhausting," said Ferdon-Anderson, a Georgetown resident who narrowly defeated Jon Tester and Scott DuBose in the nonpartisan race.
Ferdon-Anderson admitted that she didn't expect to win.
"I know that sounds terrible," she said. "You want to win, but you prepare to not win."
After 2,997 ballots were cast, only 32 votes separated the first – and third-place finishers. Ferdon-Anderson received 1,015 votes, Tester 990 and DuBose 983.
There were also nine write-in votes.
Nearly 52 percent of the ballots were cast in the nine Waccamaw Neck precincts: 1,273 in Pawleys Island precincts and 288 in Murrells Inlet.
The 336 votes cast in Pawleys Island 5 were the most of any of the county's 34 precincts. Those only accounted for 10.6 percent of the registered voters.
DuBose, who lives in Pawleys Plantation and had the endorsement of the county GOP executive committee, got 42 percent of the vote on the Waccamaw Neck. Tester, who lives in Litchfield,had just over 37 percent of the Waccamaw Neck vote. Ferdon-Anderson got just over 20 percent.
"I knew I wasn't going to win Pawleys Island," Ferdon-Anderson said.
She was the top vote-getter in 16 precincts. DuBose won 12 precincts and Tester won five.
The country-wide turnout was 6 percent. In only four precincts – Pawleys Island 5, Georgetown 1, Georgetown 4 and Myersville – did the percentage of turnout reach double-digits.
The fewest voters, seven , were cast in the Carvers Bay precinct.
Club 142 United, a nonpartisan progressive women's group, and the county chapter of the NAACP both encouraged voters to turn out.
"I did not win this alone," Ferdon-Anderson said. "It was a group effort."
The NAACP hosted three candidate forums.
"I thought the NAACP forums were good," DuBose said.
"I wish more people had come out," Ferdon-Anderson said. "Obviously, with a pandemic, there are lots of people who are still cautious about being out in groups."
There were also two forums hosted by the county GOP.
"I really enjoyed the well-thought-out questions that I had to respond to," Tester said. "It really made me think a lot. So that was good."
Ferdon-Anderson was a teacher at Andrews High School for 33 years before retiring in 2018. She credits that partially for her victory.
"It's a lot of people. Every year that I was teaching, it's 100 kids and all those add up. And all those kids have families. That helped me a lot," Ferdon-Anderson said. "It's more personal. School is personal. Students are personal to me. Parents are personal."
Tester retired from the school district after 32 years, starting as a second grade teacher at Waccamaw Elementary, serving as its principal and finishing as an assistant superintendent.
DuBose retired from a management consulting firm and stressed his outsider status in the campaign.
Ferdon-Anderson has already been contacted by Superintendent Keith Price about meeting with him and Arthur Lance Jr., chairman of the school board.
Because she can't be sworn in until a week after the results are certified, she will not take part in Tuesday's board meeting, although she does plan to attend.
Since there is no board work session in April, Ferdon-Anderson will officially be seated at the May 3 meeting.
The at-large seat became vacant when Jim Dumm resigned effective Dec. 31.
Ferdon-Anderson's seat, and the other at-large seat held by Mike Cafaro, will be on the ballot in November.
Ferdon-Anderson said unless the work becomes overwhelming or she can't figure things out, she'll run for a full four-year term in the fall.
"I just kind of feel like I need to finish. My father always told me when you start something, you finish it," she added. "I think I need to see it through."
DuBose said Tuesday that he plans to run again.
"Win or lose, my eyes are on November," DuBose said.
Tester said Tuesday if he lost, he might not run again.
"I feel like I ran a very strong and aggressive campaign. I've made it clear what my priorities would be as a board member and what my concerns are with the school district," Tester said. "In the period of time between the special election and the regular election, I just don't know that my platform would change."
DuBose lives in District 2, a seat held by Pat DeLeone, whose term is up in November. DeLeone has said she will not seek re-election.
Lance's term in District 7 is also on the ballot in November. He became chairman when Dumm resigned. Lance has also said he will not run for another term.