Town without property tax considers business license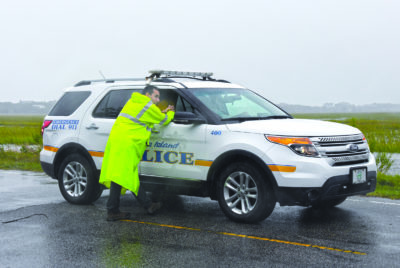 A plan to raise police pay led the town to consider business licenses.
A proposal to raise pay for Pawleys Island police officers to maintain parity with county deputies has the town looking at a business license fee to fund the increase.
In a town that has operated for 33 years without a property tax, it is the only available source of additional revenue, the town administrator said.
Although there are only two commercial operations on the island – inns that are grandfathered by the town's zoning – the town would be able to require a license for companies that do business on Pawleys Island. That would include second homes that are rented to vacationers, which make up a majority of the island's properties.
"There are definite pluses for us doing that," Mayor Jimmy Braswell said. "We're not sleepy little Pawleys any more."
The council discussed police pay in a budget workshop, but took no action on the proposal from Chief Mike Fanning that would have increased salaries for the five officers an average of 9 percent. The police department accounts for just over half of the town's $1.01 million operating budget.
"As a town, it is the most important thing that we provide for our homeowners," Council Member Rocky Holliday said. "By far the most important thing we do, closely aligned with beach management."
But he said the business license will amount to a tax on property owners because the companies will pass the cost along to their customers. He said the town needs to look at cutting spending as well as raising revenue.
Without doing something, the town, even without the police raises, will spend more than it takes in over each of the next 10 years.
It's current reserve of $810,185 will dwindle to just over $35,000 in a decade, according to projections prepared by Administrator Ryan Fabbri.
Since the town doesn't have a property tax, under state law the only way it can impose one is through an act of the legislature. That law was adopted in 1996, 11 years after the town was formed.
"A business license isn't the lowest hanging fruit. It's the only fruit," Fabbri said.
He estimates that a $300 annual fee for sales of $100,000, the rate used by the town of Edisto Beach, would generate $110,000 for the town. With that revenue – and an increase in police salaries – the town would increase its operating surplus over the next five years before beginning to draw it down, according to Fabbri's estimates.
"It's not all about revenue," he told council members at a special meeting this week. "You could drastically cut expenses."
Since the police are the largest cost to the town, the department provides the largest opportunity for savings.
Fabbri said cutting back on patrols, particularly in the off-season, could save about $20,000 a year.
The town could save another $15,000 if it stopped monitoring the south end parking lot, which is actually owned by Georgetown County, he said.
And the town could save money by eliminating the administrator's job and letting the mayor perform those duties, as Bill Otis did before Fabbri was hired. "I'd be doing you all a disservice by not mentioning it as an option," Fabbri said in a memo.
Holliday and Council Member Ashley Carter were named to a committee to review police salaries and coverage before the budget comes up for final approval on Dec. 10.
"I'm just not convinced Georgetown County is a good basis of comparison," Holliday said. He wanted to see what other coastal towns pay.
Fabbri pressed council members on what they hope to accomplish with a committee, pointing out that this week's session was the third meeting on the budget.
"I feel like we're no closer," he said. "I spent a lot of time putting all this stuff together. I have not had one question."
"Calm down," Holliday said. "You're not the only one spending time on this."
Braswell said the business license can provide money for police pay and to help the town begin to deal with flooding issues. "We've got to do something about that, and it's going to take some money," he said.
The license would be paid by people who provide services to tourists that currently don't contribute to the island's operations, Braswell said. "We've got people who rent kayaks," he said, and when those kayakers get in trouble they call the police.
Fabbri also said the business license will help the town ensure that every owner who rents their beach house pays the state and local accommodations taxes. They would have to provide proof of income to get a license.
Fanning called the talk about police pay "a little disheartening." He noted that when the town paid more than the county, the county was held up as a point of comparison. Now that county pay is higher, it's no longer seen as valid.
"We just ask for fairness," he said.