A Lowcountry tradition has transformed beyond a craft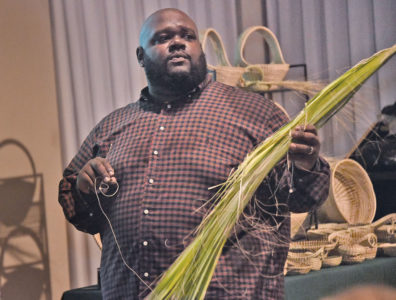 Corey Alston is one of the few men carrying on the sweetgrass basket weaving tradition.
Corey Alston was a reluctant sweetgrass artist. The Lowcountry tradition goes back hundreds of years, but was maintained by women.
Alston, who recently spoke as part of the Reign of Rice series at Brookgreen Gardens, is a fifth generation sweetgrass basket artist from Mount Pleasant. His grandmother, Mary Jane Manigault, was awarded a National Endowment for the Arts National Heritage Fellowship in 1984. One of her creations was the first sweetgrass basket to be displayed in a Smithsonian museum.
"I'm proud to be under her," Alston said.
Sweetgrass basket weaving dates back to the late 1600s when slaves needed to separate the husk from the rice so they would use a woven "fanner" to throw the rice in air so the husk would blow away.
Fanners are the oldest type of Gullah tool connected to the rice culture.
"We do not put a handle on it," Alston said. "If we put a handle on it it's a magazine tray."
There is, however, types of traditional sweetgrass baskets with handles to harvest or carry items.
One of the most decorative sweetgrass pieces are "elephant ears." Most artist will try to make them to be fancy, but not all succeed, Alston said.
"We're trying to see what we can do," Alston said. "Every artist will try it. Some of us will conquer it. Some of us will never do it again because it looks so bad."
Alston does not buy supplies to weave his baskets.
"We don't have a depot where I can go to buy a pound of sweetgrass," he said. "It doesn't work that way." He and his nephew harvest pine needles, longleaf pine and bullrush from Francis Marion National Forest.
"I'm not too good at getting palm fronds from the top stalk," Alston said. "Gravity pulls me down. And it hurts."
One of the most difficult sweetgrass basket ingredients are palmetto, or "metta," leaves, Alston said, because they use them green and before the tree opens.
"Once [the tree] fans, we don't use them," he added.
Sweetgrass grows along the salt marshes. It prefers slightly higher elevations than the spartina grass. Alston said there is a shortage of sweetgrass due to the explosion of development.
"Mount Pleasant is one of the most growing areas on the East Coast more than any other town," he said.
Alston now sometimes has to travel to Bluffton to get materials. He trades completed sweetgrass pieces for more sweetgrass. "I harvest for my whole family," Alston said.
Generations ago sweetgrass basket weavers would use a cow bone as a tool to coil the materials. That practice has evolved into using flattened nails. Alston created the nail he uses when he was in high school in 1998.
"It's more precious to me than my home," he said. "Any artist has a favorite tool. [It] is my favorite tool."
The tightness of the weave and the closeness of the stitching are very important, Alston said. His grandmother taught him that the hard way: she would take apart anything he made that wasn't up to her standard.
She "would come home and see what we did over the day and if I made spaces and wraps trying to speed it up, she would take it down and start it all over," Alston said. "That would really make you learn what not to do. You would put nine hours in a piece and grandma would just unravel it all because you cheated on it."
There is no measuring in sweetgrass basket weaving, everything is done freehand, and there are no synthetic materials.
Some sweetgrass artists will dye their materials "to stand out," Alston said. His family does not because he encourages people who buy their products to wipe the baskets down with tap water once or twice a year.
"That dye would bleed," he said. "So then your basket then becomes art. It sits on a wall and you never touch it you never clean it because it has dye in it. My family, we do it the old way because it's a functional tool you're supposed to use."
Alston dispelled the notion that the very popular sweetgrass roses, which are sold around Charleston, are a Gullah tradition. The palmetto roses made of sweetgrass were created during the Civil War by women to give to their husbands or sons who were going off to fight for the Confederacy.
"He wore it [in his] lapel for a safe return," Alston said. "He gave it to her as a love token."
Alston said women have kept the tradition of sweetgrass basket weaving alive for hundreds of years.
"Women have taught from mother to daughter generation after generation after generation," he said.
Alston didn't want to follow in his family's footsteps until he found out that prior to enslavement, men were the weavers. He has seen a decrease in the number of sweetgrass artists because his generation wants instant gratification and no one wants to work on a piece for several weeks anyone.
Alston said Mount Pleasant has kept the sweetgrass basket industry alive. He called the stands along Highway 17 "historical landmarks."
"As bad as they look at some times … [they] are the original businesses of Mount Pleasant," Alston added. "As soon as you leave Charleston you don't see us. You can go to North Charleston and you won't see us."
Alston said the sweetgrass weaving community in Mount Pleasant is a tight-knit group. "If you only have a 15-mile area of weavers, if you go back far enough, we [are] kinfolk," he added.
Alston's aunt has a sweetgrass basket that is 119 years old. "They last a lifetime if you care from them properly," he said.
One sure way of shortening the lifespan of a sweetgrass basket is to use it as a flower pot. "Watering that baby, twice a day, two years in a row [or] three years in row, it rots out," Alston said.
Sweetgrass artists can repair most damaged pieces. Alston repaired two fanner baskets from the 1600s that were damaged during Hurricane Hugo for the Confederate Museum.
"The baskets were torn completely in half because the building fell in," Alston said. "I was able to mend those baskets back to the original look. If you visit the museum today they now have them in glass cases."
Alston, his wife, daughter, mother and sister create and sell sweetgrass pieces at the bottom of the museum's steps. For him, it's not all about making money.
"This is an art of proud heritage," Alston said. "If you're proud of what you do, you love what you do, then your dollar amount may not always be as important."
Sweetgrass spoken here
Hopsewee Plantation: Vera Manigault, an eighth-generation weaver from Mount Pleasant, leads hands-on classes in sweetgrass basket making every Thursday. The three-hour classes start at 1 p.m. The cost is $60 and includes all materials. Register online at hopsewee.com.
Waccamaw Library: The Friends of the Library will host a sweetgrass program for families on March 9 from 10 a.m. to noon. Ruth Habersham will discuss the history of the Lowcountry art form and then give a demonstration. Materials will be provided for families to work on their own wreath to take home. The event is free, but registration is required. Call 843-545-3349 or email aking@gtcounty.org.
Hobcaw Barony: Dale Rosengarten, author of "Row Upon Row," a history of sea grass baskets; and Barbara McCormick, a basket maker who learned the art from her grandmother, are the speakers for a program on the folk tradition March 12 from 2 to 4 p.m. The cost is $20. Register at hobcawbarony. org.
Plantersville: Lynette Youson, a fifth-generation basket weaver featured in the Smithsonian American Art Museum, will be at this year's Tour de Plantersville to discuss sweetgrass history and demonstrate basket weaving. It is part of a cultural festival that accompanies bike rides through the community. It begins April 27 at 8 a.m. at Plantersville Elementary School.