9/11 – They won't forget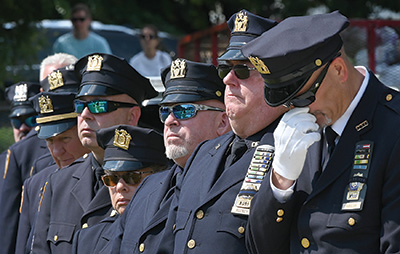 Former NYPD officers listen to the reading of names of colleagues who died in the attacks.
The sky was cloudless and serene.
"Just like it was then," said Lisa Midwood, a former sergeant with the New York Police Department.
She walked to the monument outside the Midway Fire and Rescue station in Willbrook to get a closer look at the short piece of twisted steel beam, part of the twin towers of the World Trade Center that fell in a terrorist attack on that September morning 20 years before.
Ceremonies on Saturday drew hundreds of people to the memorial installed on the 10th anniversary of the attacks of Sept. 11, 2001. Their memories were fresh.
"We lost a lot of friends," said Maureen Brooks, who once worked for NYPD. She was with John Kopyta, a former firefighter from Long Island. Both wore T-shirts that said "Never Forget."
Kopyta was working off duty at a hotel the morning of the attack. He and a fellow firefighter saw the second 767 airliner hit the South Tower.
"What did we just witness?" the friend asked Kopyta.
Kopyta ended up working at the site in the weeks that followed. He now works at Grand Strand Regional Medical Center, where he recently showed a 22-year-old co-worker pictures from the site. "His mouth just hung open," Kopyta said.
Donna Clark of Pawleys Island was also drawn to the memorial. She was at work at an emergency center in Arlington, Va., when a 757 airliner hit the Pentagon.
"I'll never forget their look," she said of the emergency workers, dabbing her eyes with a tissue.
Midway firefighters and officers gathered at the memorial for a wreath-laying ceremony at 9 a.m., joined by over 100 community members.
Chief Doug Eggiman recalled sitting in the fire station 20 years before and watching the events unfold on television. He described the silence when the towers fell, as firefighters realized that they had just watched thousands of people, including firefighters, lose their lives.
"I remember the days after as this nation truly became one nation under God, indivisible," Eggiman said. "The politics, the differences and everything else were all put into perspective and we were one. We knew and we didn't want it ever forgotten."
Two Cub Scouts – Ethan and Ryan Hixson – led the Pledge of Allegiance at the ceremony. A few days before, Midway Fire Marshal Mark Nugent had found the boys cleaning the area around the memorial.
"Honestly, Mark and I felt the same way. It choked us up a little bit," Eggiman said. "To me it also shows what a promising future we have because at that age they're doing stuff like that."
The Rev. Wil Keith, Midway's chaplain, read the final homily of Father Mychal Judge, the FDNY chaplain who killed at the World Trade Center.
Keith said 9/11 has become a day of re-dedication for firefighters.
"This is a day for them to remember what they've got in it. Most of them saw 9/11 and that had a lot to do with them coming to the fire service," Keith said. "This is a day that they look up from their work and remember why they got into it, what their job is and the importance of them doing it."
Eggiman agreed.
"This seemed like the perfect occasion, with the anniversary, to try to bring everybody back together and try to talk the message about unifying and remembering that we're all in this together," Eggiman said. "And reminding our own people what we're here for."
Former NYPD officers gathered for a service at 11 a.m. with family and friends. The officers belong to the 10-13 Club chapters in Myrtle Beach and Fort Mill. The club takes its name from the radio code for "officer needs help."
"This is just a piece of steel to somebody," said Mike Fanning, the Pawleys Island police chief, standing behind the memorial. He is a retired NYPD sergeant and president of the Myrtle Beach 10-13 Club. "To us, this is representative of what we all suffered that day, where two 110-story buildings came crashing down on humanity."
There were 343 members of the Fire Department of New York, 37 Port Authority police and 23 NYPD officers among the 2,977 victims of the attacks that day.
"There have been countless others over the past 20 years that have succumbed to illnesses relating to the effects of that day," said Pete Cestare, a former detective with NYPD and now vice president of the local 10-13 Club. "The number of casualties is constantly growing."
Scott Hassler, also a former NYPD detective and president of the Fort Mill 10-13 Club, survived a battle with cancer. He pointed out that the ceremony included children and grandchildren.
"It's important that we don't forget about it," Hassler said. "I will be here as long as I breathe this air. Every year, if I can make it to some kind of ceremony, I'm going to be there."
Sept. 11 was only the start of the ordeal for many.
"I watched co-workers go down to Ground Zero and work tirelessly for months at a time to try to bring home a piece of someone, a loved one to their families," Fanning said.
He was among them. He worked at the morgue.
"I watched as a remnant of a human body came in that was identified as a first responder. All operations stopped," Fanning said.
The body bag was draped with an American flag. Everyone stood and saluted.
The debris from the twin towers was taken by barge to the former Fresh Kills landfill on Staten Island.
"It was a crime scene," said Pete Boylan, a retired NYPD crime scene investigator. Each item was inspected for anything that could help identify the victims.
Fanning admires those who did that job. "I just couldn't do it," he said. "Standing in the middle of a garbage dump that's been closed, and the ground bubbling up underneath you. The smells and the conditions were awful, but they got it done."
"It's crucial that we never forget the sacrifices made and the lessons we learned from that horrific event," Cestare said. "Twenty years may seem like a long time to some, but I can assure you it seems like yesterday to those who lost a loved one in 9/11 or worked in any capacity in the rescue and recovery efforts."
Chris Sokoloski contributed to this article.