A century on the creekfront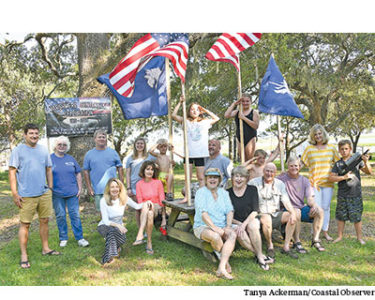 Families have celebrated the Fourth of July at Marshmere for the last 100 years.
A lot of things have changed in Murrells Inlet in the last 100 years.
But at least four things have not: descendants of the families that owned property along the creek near Belin Memorial United Methodist Church still own that property.
The Byars and Stedmans; the Rices; the Tillers, Martins and Kellahans; and the Kings all have roots in the area going back a century.
The Byars family started renting property in Murrells Inlet in 1889. In 1910, Luther Byars bought one acre on the creek. His grandson, Warren Stedman, lives on that land today.
"My grandfather loved to fish," Stedman said. "That's the reason he bought the place and came here. … He loved it down here. He liked to hunt too, but fishing was his passion."
Two houses were built on the property in 1914 and called Cozy Oak. One had a porch wrapped around a large oak tree. Both were two stories and had no glass windows, just screens and shutters.
"Mama told me when it rained, she would have to close the shutters because the rain would come in," Stedman said. "They were very basic houses."
Byars had a chance to buy the property across the creek which is now Garden City Point.
"He said nobody is ever going to live on that sandbar," Stedman said.
After Byars daughter, Lurline, married John Stedman of Marion, the couple tore down the two houses and built a new one in 1955. Some of the wood from the original houses was salvaged and used in the new one. Like his mother, Stedman spent his summers on the inlet property.
In the late 1980s, Stedman's parents started living in the house full-time.
"They retired and did some remodeling and got some decent heat and air conditioning in here," Stedman said.
Stedman and his wife, Beth, moved into the house about 14 years ago. They are the only full-time residents among the four families.
Leon and Jan Rice own Marshmere, which was built in 1915 as a three-room fish cabin with screens instead of windows.
In 1919, the property was bought for $800 by Eunice Ford Stackhouse of Marion, the dean of Limestone College. In 1921, Stackhouse sold it to her sister Ethel, who was Leon's grandmother. Ethel's children – Fordie, A.C. and Josephine – were the next owners. Fordie did not like looking over into her neighbor's house so she had the house moved 25 feet closer to the creek.
Leon was born in 1943 and started spending his summers in Murrells Inlet. Since the three siblings shared ownership, each family spent one month of the summer there.
"We didn't have air conditioning, we didn't have TV," Leon said. "To use the phone we had to go to Oliver's and call long distance."
"You lived by the tide," Jan said. "If it was low tide, you were out shrimping and crabbing and oystering. In the good old days, you could drag one of these creeks right over here three times and get 10 pounds of shrimp."
Marshmere has remained a vacation home that the Rices rent out. No one has ever lived in it full-time. Through the years, the house was expanded and updated. Porches were enclosed and heating and air conditioning were added, along with more bedrooms and bathrooms and a kitchen. There are enough beds to sleep 19 people, plus a few couches.
"One of the children of the renters said, 'oh I love the house with the crooked floors,'" Jan said. "It has personality."
The Rices live nearby and are at Marshmere every day to fix something or to take one of their boats out.
"When something's biting, [Leon is] here," Jan said.
Daisy and Frank Martin, bought the property between the Stedmans and the Rices in the early 1900s. It eventually passed to their great-nephew, Ralph Tiller of Mullins. His three daughters now own it.
"It was not an option to get rid of it," said Emmy Lou Kellahan, one of Tiller's daughters. "I don't think it's going anywhere outside the family."
Before Business 17 was built in the 1930s and became the main road, there was a dirt road that ran along the creek in back of the houses. Once a hurricane destroyed a bridge along the road, people stopped using it. Several houses south of the Stedman property still have a dirt road running through property.
All four of the houses survived Hurricane Hugo in 1989, although their docks didn't.
"This strip right here was really lucky," Jan said.
"They're well-built, that's a lot of it," Stedman said. "They're low to the ground. They've withstood time and they've withstood a lot of storms."
Leon said some people who lost houses to hurricanes couldn't afford to rebuild so they sold the land. Jan said there was some luck involved in the properties staying within the same families.
"The families managed to stay together," she added. "They loved it so much."
About 15 years ago, the group of neighbors got together and had their land rezoned from general residential, which would have allowed for up to 16 units on each property, to residential one-half, which only allows two houses on each plot.
"It was a little bit of self-help," Leon said. "We're protected."
"I don't want to give it up. I love this place," Stedman said. "I hope my children continue to own it one day. It's very unique here."