A day for the inlet, a year in the making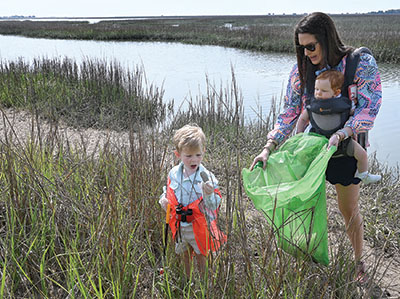 Hunnings Coward, 3, of Murrells Inlet, examines a piece of plastic he found while cleaning up with his mom, Megan, and sister, Wardie Kate, 11 months.
After skipping the annual community cleanup during the pandemic year, there was plenty of trash for volunteers to collect at this year's Spring Tide. Yet they also found time to focus on what was lost as well as what was found.
The names of a dozen volunteers and supporters who died over the past year were read out by Chip Smith, who founded the event 30 years ago.
They were "people who care for the inlet," Smith said. "Gone to a further shore, never forgotten."
Among them was June Jordan, who was this year's recipient of the Golden Oyster Award for Environmental Stewardship from Murrells Inlet 2020. An artist, she had designed all the T-shirts for Spring Tide. She supported Trees for Tomorrow, Stop Offshore Drilling in the Atlantic (SODA) and the Chirping Birds campaign against single-use plastics. She died April 7 at age 82.
The award was presented to her husband, Al.
"Most of us don't really get enough recognition during our life or even after," he said. "June would have thought this was perfect."
Murrells Inlet 2020 also named its Volunteers of the Year before the start of Spring Tide, an event it now organizes.
Melissa Hixson listened to the announcement and was surprised to hear that there was another family in Murrells Inlet helping stock dispensers with pet waste bags. It turned out there was only one.
"They have been amazing," Meredith Harrison, director of the revitalization group, said. "They are a family of service."
Hixson stepped up to receive the award with her husband, Scott, and their sons, Ethan and Ryan.
"I had no idea," Melissa said. She served on the board when the group was known as Murrells Inlet 2007. She and Scott took over the pet waste bag as a way to get their kids involved, initially taking them on their rounds in a wagon.
They also joined about 200 other volunteers in spreading out on the streets and creeks in search of trash.
Smith said he never envisioned that the event would continue for three decades. The original goal was to clean up debris left by Hurricane Hugo.
"I thought One-Plus Boating would take care of the rest," he said, referring to the program that encourages boats to return to shore with their own trash and a little extra.
Kayaks, pontoon boats and jon boats filled with bags of trash, lumber and other debris pulled up at the Morse Park Landing. Volunteers brought in a mailbox, a computer monitor, car parts and a cast figure of St. Francis.
Levi Harris, 10, has been a volunteer for nine years. He found St. Francis sitting inside a tire near Cedar Point.
"I'm not sure why anyone would want to throw it away," he said.
Although the face of the saint was missing, Levi thought he could get help replacing it from his art teacher at Coastal Montessori Charter School.
Anders Schmidt came to Spring Tide after attending the dedication of the new park facilities two days earlier. He and his wife donated to the park.
"I think it's important that we contribute something," he said. "You've got to embrace your community."