A fresh start on a new journey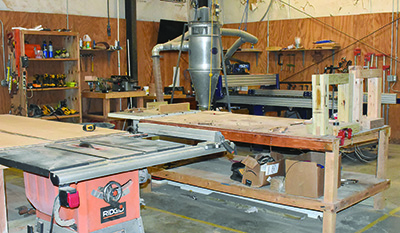 A workshop outside the jail is used for career training.
Inmates at the Georgetown County Detention Center spend years learning work skills as part of the sheriff's office re-entry program.
But when it comes time to be paroled, suddenly those same inmates have a short period of time – sometimes just weeks – to get things like housing in place for their return to society.
That's where Amazing Journey comes in. The nonprofit, which supports the re-entry program, financially and otherwise, is one of 83 nonprofits taking part in Palmetto Giving Day, next Tuesday and Wednesday.
The Rev. Greg Van Dyke of St. Peter's Lutheran Church is chairman of the Amazing Journey board of directors. He said Palmetto Giving Day is not just about the money, it's also about more people learning about the program.
However, the nonprofit has plans for the donations.
"The influx of money enables us to acquire, maintain, and upgrade tools and equipment that enhance the program [and] allows us to meet unexpected costs associated with their transition to becoming productive members of society," Van Dyke said.
Jonathan Branch, director of the re-entry program, said finding transitional housing is a "future priority" for Amazing Journey.
"We've got landlords in the area that once they've met our guys, love our guys," Van Dyke said. "They pay their rent on time [and] they take care of the property."
The nonprofit is considering investing in campers.
"If we own something that they can live in for three months or six months they stay warm and dry – or stay cool and dry. For me that's the next chapter: guaranteed housing," Van Dyke said.
The re-entry program was started in 2007 by the late Sheriff Lane Cribb, who believed in helping former inmates become productive members of society. More than 250 men have graduated from the program, which gives inmates the opportunity to train for a career in HVAC, woodworking, auto body repair, carpentry, equipment operation, thermal insulation, landscaping, barbering, welding, plumbing, roofing and painting.
Branch took over last fall after the retirement of Debbie Barr, who had spearheaded the program for more than a decade.
"It feels like something I'm really compelled to do and to be a part of for awhile and see if I can contribute anything at all to these men," Branch said. "We really want to see people come out and become neighbors and members of society working toward the common good for everybody."
There are currently 12 participants. At its peak, the program averaged 25 participants.
The numbers have decreased since the COVID-19 pandemic.
"It really kind of stalled everything for a couple of years. Everything was more or less shut down for awhile," Branch said. "We're trying to come back from that. We're trying to rebuild to those numbers."
Branch wants to follow in Barr's footsteps by following up for 12 months with the program graduates.
"If we see there's something they're struggling with, something they need some additional support on, we can connect them with resources," Branch said. "That's a very valuable part of the program I think; not just turning them loose and saying 'Here's a job, here's a house. Good luck.'"
Van Dyke said there's still some stigma about people who have been in prison, but not as much as there used to be.
"The bottom line is they're getting out anyway," he said. "So if we can be a part of their productivity, if we can be a part of their contribution back to society, they turn out to be really good neighbors and they turn out to be really good employees from what I hear. The folks that hire them are thrilled."
Palmetto Giving Day starts at 6 a.m. on Tuesday and ends at 6 p.m. on Wednesday.
For more information on the nonprofits involved go to palmettogivingday.org. The website is the only place to make donations on Tuesday and Wednesday.