A. Lane Cribb, 73, county's longest-serving sheriff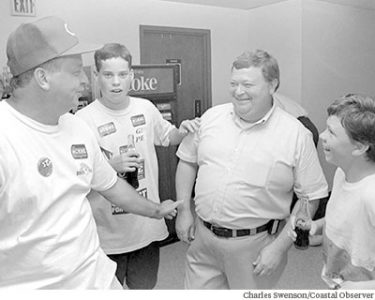 Lane Cribb, right, is congratulated by James Sanderson after winning his first election in 1992.
If you spoke with Sheriff Lane Cribb for at least five minutes, he would probably consider you a friend after that.
If the conversation went on any longer, he would try to figure if you were kin.
"He was genuine. He was a real person," Assistant Sheriff Carter Weaver said. "He could communicate with you one-on-one like no one else I've ever seen. He truly cared about what you were saying and listened for the purpose of understanding an issue and not just responding to it."
Cribb was Georgetown County's longest-serving sheriff. He died Sept. 19 from complications that followed an allergic reaction to cortisone. He was 73.
He was remembered at a funeral service on Sunday afternoon at First Baptist Church in Georgetown. After the service, Cribb was laid to rest in Pleasant Hill Baptist Church Cemetery.
County Coroner Kenny Johnson, who sang two hymns at the service, had known Cribb since they were both deputies at the sheriff's office. Johnson said Cribb's goal was always to become sheriff.
"He felt like he could do something, he wanted to make a difference somehow," Johnson said. "He thought that he could make the world a better place."
Alton Lane Cribb Jr. was born Aug. 13, 1946, in Hemingway. He was the son of Alton Lane and Inez Tanner Cribb. He started his law enforcement career in 1973 as an investigator with the state Alcohol Beverage Control Commission. He worked as an investigator with the Florence County Sheriff's Office before joining the Georgetown County Sheriff's Office.
Johnson recalled working with Cribb in Pawleys Island during Hurricane Hugo in 1989. Many people who lived west of Highway 17 didn't leave. When it became apparent how bad the storm was going to be, more than 200 people showed up at Waccamaw Elementary School, which was not a shelter.
Cribb and Johnson arrived, called principal Carl Hughes to come and unlock the school, and then rode out the storm with the evacuees.
"Boys, I think this is going to be rough," Cribb told Johnson and a few other deputies who were there.
The school had received a large shipment of bananas before the storm and the evacuees and deputies sustained themselves with the fruit. Eventually Cribb had enough.
"I don't want no more bananas," he said. "If I eat one more banana I'm going to start swinging from the trees."
Cribb's uncle, Garris Cribb, was the county sheriff for 19 years until his death in 1963. Lane Cribb resigned from the sheriff's office in 1992 to run against Sheriff Michael Carter, who had been sheriff since 1978.
Cribb won the Democratic Primary with 53 percent of the vote after pledging to step up enforcement of drug crimes and improve morale in the department. He defeated Jim Elders, a Republican and former Georgetown Police chief, in the general election.
Cribb oversaw the expansion of the department from a shoe-box-sized office opposite the courthouse to its current facility, a former elementary school. He increased the number of deputies on Waccamaw Neck and added new units, such as a bloodhound team, beach patrol and other specialized crime teams.
His county upbringing and folksy talk made him the quintessential image of a Southern sheriff. He used that to his advantage.
When County Council tried to change the way the sheriff's office was funded, Cribb told the members the numbers didn't add up. "I don't know any $3 words," Cribb said. "But if it takes $20 in gas to get to Columbia, and I give you $10, how much are you going to give me when you come back?"
Cribb attended Horry-Georgetown Technical College, Limestone College and the University of Alabama. He held a bachelor's degree in business administration. He was also a graduate of Carolina Command College, National Center for Rural Law Enforcement, South Carolina Criminal Justice Academy and numerous other law enforcement schools. He was the recipient of the 2016 Strom Thurmond Award for Excellence in Law Enforcement.
Howard Henry, Cribb's brother-in-law, does business all over South Carolina and said he always meets people who knew Cribb.
"Every single one of them was Lane's best friend," Henry said. "I don't know how that works. But they were, and he made all of us feel that way. … It always amazed me that so many people felt that way about him."
Horry County Sheriff Phillip Thompson agreed.
"He was that guy who had that special ability to make you feel so comfortable around him and with him," Thompson said.
Cribb was passionate about law enforcement, Thompson recalled.
"Besides his family, that was Lane's life and that's what drove him," he said.
Cribb is survived by his wife, Craig Holliday Henry; three children, Alton Lane Cribb III of Effingham, Kristina Cribb of Scranton and Matthew James Henry of Pawleys Island; two sisters, Alicia Dinsmore of Pleasant Hill and Lenora Riddle (Paul) of Greenwood; four nieces, Alishae Morris (Jim) of Pleasant Hill, Laura Dennin (Troy) of Greenwood, Leanna Riddle of James Island and Cora Parker of Myrtle Beach; two nephews, Phillip Tanner Riddle of Greenwood and Lucien Henry of Myrtle Beach; and one great-nephew, Evan Morris of Pleasant Hill.
Henry said Cribb was always the sheriff, whether he was "on-duty" or not.
"That's unique," Henry added. "That truly was who he was."
Johnson said Cribb had a big heart under that "sheriff exterior."
"People he thought really need help, he would help them," he added.
Sel Hemingway, the Georgetown County administrator, worked with Cribb for many years, starting when Hemingway was a member of County Council.
"He tried to work together no matter what the circumstances were," Hemingway said. "He was great resource and will be almost impossible to replace."
Twelve years ago, Cribb founded a re-entry program to give inmates at the detention center job training. More than 300 men have completed the program; none returned to jail.
Executive director Debbie Barr said the men in the program were like Cribb's third family.
"He had a love of people that some people have discarded and didn't want to give a second chance to or who didn't have any hope in their lives," Barr said. "He wanted them to do good. Their past was their past. He wanted them to move on."
When the inmates were ready to graduate, Cribb spoke with each one individually. He encouraged them, and told them to call if they needed anything.
"He was there for all of the guys," Barr added.
When the news of Cribb's death reached the detention center, the inmates in the re-entry program were in tears, she said.
Weaver said Cribb believed he held an office of great responsibility, not an office of great power.
"He knew we were here to serve a greater purpose," Weaver added. "It's that simple."
Memorials may be made to the re-entry program: Amazing Journey, 2394 Browns Ferry Rd. Georgetown, SC 29440.