A production 30 years in the making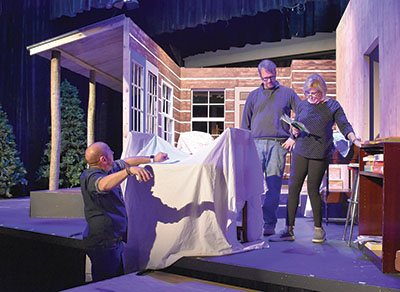 Ronnie Hunter, left, directs Jeff Crowe and Helen Thomas in "On Golden Pond."
Thirty years ago, Ronnie Hunter designed a set for "On Golden Pond" for a college class.
That set never got built, until now.
"This is my labor of love from my college days," Hunter said. "What I envisioned over many, many years, has now come to life."
Hunter, a Hemingway native, is directing the 1978 play by Ernest Thompson for the Swamp Fox Players. It is the story of Norman and Ethel Thayer, who are spending their 48th summer at a cabin in Maine. Norman's declining health and the arrival of their daughter and a teenager make it a summer to remember.
Hunter drew inspiration for the set from his grandparents' cabin on the Black River where he spent his childhood summers, as well as log cabins in New England.
"With set design, it's all about how do you make something not natural look natural and look normal," Hunter said. "But at the same time have theatrical appeal and stage presence."
The outside of the set has a wooded area and a porch, where the Thayers gather to watch the loons on the lake.
Joe Ford built an extension on the right side of the stage for the cabin's fireplace and Norman's chair.
"That's his man cave," Hunter said.
Although best known as an Academy Award winning movie starring Henry Fonda and Katherine Hepburn, "On Golden Pond" premiered on Broadway in February 1979 and ran for 129 performances.
"I have loved this play ever since I was in high school," Hunter said. "I saw a production of it and fell in love with it. I was amazed by the set."
Although always drawn to "back of the house" things like set design, Hunter could act and sing so he usually ended up on stage in high school and at Francis Marion University.
Hunter was a professional performer in his 20s and then worked in the corporate world for 25 years before taking a sabbatical and moving back to his hometown at the end of 2019.
He returned to the stage with the Swamp Fox production of "Independence Day at Happy Meadows" in September.
Hunter is pleased with how the pre-production of "On Golden Pond" has been going.
"I'm very, very proud of it," he said. "It's all coming together."
The Swamp Fox Players will be following COVID-19 safety protocols, which includes advanced ticket sales only and limited seating for each show.
Audience members will have wait outside before being seated and masks are required inside the theater.
Ushers will be enforcing social distancing guidelines by seating patrons a few at a time, using alternating rows and with three seats between groups. After the show, patrons will leave one row at a time to avoid a large group trying to get out the doors.
If you go
What: "On Golden Pond."
When: Feb. 25-27 and March 4-5, 8 p.m.; Feb. 28, 2:30 p.m.; March 6, 2:30 and 8 p.m.
Where: Strand Theater, Georgetown.
Tickets: $19 at swampfoxplayers.com or by calling 843-527-2924.