A tribute to service brings a challenge for community involvement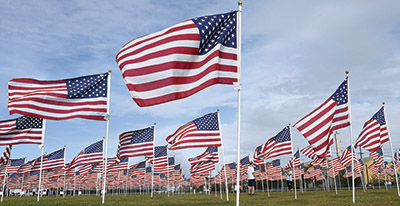 There are 312 flags in the Field of Honor display in Georgetown.
Liz Litvin wore a uniform for 26 years. Her service didn't end when she retired.
"I couldn't just turn off that part of my heart, that part of my mind that wanted to serve," she said. "Serving in my community helped my transition from the Army. I'm still serving, just in a different way."
Litvin looked at the 312 American flags on display at the Georgetown Kiwanis Club's Field of Honor as a gift to veterans and their families and a reminder of their sacrifices. Speaking at the opening ceremony over the weekend, the former Army colonel said she saw something else.
"It invites everybody who views it to stop and think: How are they serving their community?" Litvin said. "The display is a call to action and a call to service."
This is the second year for the display along Highway 17 in front of the International Paper mill. There were 150 flags last year. Many are tagged with the name of a veteran, sponsored through donations that fund scholarships for the children and grandchildren of veterans. The flags will be on display until Dec. 3.
Litvin's service began as a helicopter pilot. She then moved into human resources. Her tours included duty in Korea, Iraq, Afghanistan and the Pentagon. She retired in 2020 as an advisor to the commander of I Corps at Joint Base Lewis-McChord in Washington State and moved to Pawleys Island.
Litvin became a mentor with Miss Ruby's Kids, an early-childhood education program. She now chairs its board.
For people who don't think they have time to volunteer, Litvin urged them to "start small, as simple as making eye contact with a complete stranger."
As an alternative, "try not to drive five miles an hour below the speed limit on 17. Just saying," Litvin said. "That's a little act of service that makes a big difference."
She also suggested people look at the nonprofit directory compiled by the Frances P. Bunnelle Foundation (bunnelle.org). "Find out something that makes your heart warm and learn how to share that," Litvin said.