Accomplice gets 5 years in Pawleys man's 2019 shooting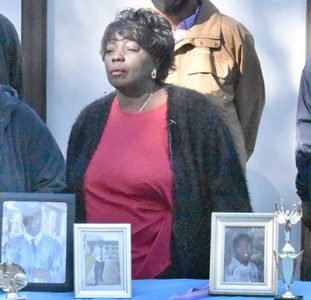 Carrie Williams at a memorial for her grandson, Deondre Brown, in 2021.
A guilty plea brought an end to the second case involving the murder of Deondré Brown, but it has not brought closure to his grandmother, Carrie Williams.
Brown, 20, was shot to death outside of Williams' home on Martin Luther King Drive in Pawleys Island on Dec. 11, 2019. He died in her backyard, where she has built a memorial to him.
"It's not gotten any easier," Williams said. "I have to go outside and when I go out in my backyard I see the stone where I've got it decorated. That's where he died. That's going to haunt me until the day I die. I can still visualize him laying in that spot. That's going to always be with me."
Chandler Sports pleaded guilty to attempted strong-arm robbery on Wednesday and will spend no more than five years in a youthful offender program for driving Aiden Zasimovitch to Williams' home that night. Zasimovitch is already serving 30 years in prison for shooting and killing Brown.
Sports has been in a youthful offender program at a juvenile detention center for the last three years while awaiting trial.
"He has never done any prison time, as of yet," Williams said. "That's just a slap on the wrist. He deserved more. He deserved to have some time in prison."
According to the arrest warrants, Zasimovitch, who was 17 at the time, and Sports, who was 15, planned to rob Brown because he had robbed and assaulted Zasimovitch a few hours before the shooting.
Sports set up a meeting with Brown while Zasimovitch waited in the woods with a .22 caliber rifle. After Sports telephoned Brown to lure him out of a car where he was sitting with his aunt and uncle, Zasimovitch opened fire. Brown tried to run from the gunfire and made it to the backyard, where he died.
Before Sports was sentenced, Williams told Judge Michael Holt that Sports was running with Zasimovitch, which was one reason she believed he deserved prison time.
"When Aiden shot my my grandson, they both ran behind him like he was an animal," Williams said. "My son and my daughter was in the yard and watched him and Aiden chase him down."
Sports' lawyer, Kirk Truslow, said his client only started running when he heard the gunshots coming from the woods.
"He was running from the co-defendant. He didn't know that was going to happen, at all," Truslow said. "He's been puzzled ever since, and he was petrified that day. He didn't know if he'd be shot next. He didn't know what happened when he heard the gun ring out."
Truslow also told Holt that Sports went with Zasimovitch that night to steal back marijuana that Brown had stolen from Zasimovitch that afternoon.
"He did not ever intend for harm to come to this young man," Truslow added. "This is a tragic, tragic matter. It's an awful thing."
Williams told Holt that Zasimovitch and Sports waited for an hour in the woods to ambush Brown before deciding to telephone him. That was plenty of time for Sports to change his mind and leave, she added.
She believes Sports knew Zasimovitch was going to shoot her grandson.
Truslow said if Sports knew what Zasimovitch's intentions were he would not have been there.
"He's as remorseful as if he had pulled the trigger," Truslow added. "He's had three years in jail dealing with this and he feels horrible about it."
Zasimovitch pleaded guilty to voluntary manslaughter and criminal conspiracy in August 2021.
Sports turns 18 next month. His mother, Jessica Franco, was relieved he wasn't sentenced to 30 years, but said he thought he'd be released on Wednesday.
Williams will be satisfied if Sports serves the full five years, but she's afraid he won't learn any lessons if he gets out in nine months.
"My grandson is gone. I'm never going to see him again. He deserves more than just nine months for his part in his death," she said. "This is something that is just not going to go away."