Administrator prepares to take over amidst change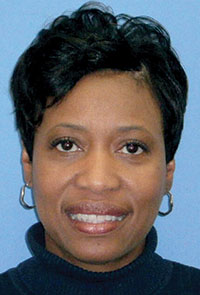 Angela Christian
Angela Christian will arrive at the end of this month to take charge of a county government vastly different from the one Sel Hemingway left at the end of last month.
"It certainly isn't going to be business as usual," Christian said.
She will start March 30, but has already attended her first meeting, the inaugural session of the capital-projects sales tax commission, which met online this week.
Christian and her husband are preparing to move to Georgetown County from Jacksonville, N.C., where they have lived since she became deputy manager of Onslow County. In the week since County Council picked her from among three finalists to replace Hemingway, the economy has continued to stagger from the strain of the coronavirus pandemic and county offices have closed to the public.
Her "robust plan" to get out and meet county employees and local leaders in her first weeks has also been put on hold.
"The last few weeks have shown just how fragile life can be," Christian said.
Onslow County and Newport, N.C., where she was recently the town manager, were hit by the same hurricanes that battered South Carolina in recent years. Her emergency management experience was cited along with financial management by council members in the hiring decision.
The coronavirus "is very different. It is fear of the unknown," Christian said. "We've all got to be prepared that it's going to be with us for awhile."
The economic impact will also be felt as Georgetown County prepares its budget for the coming year. The county has drawn on its reserves to cover shortfalls in its operating budget the last two years. Hemingway hoped to leave the county with a blueprint for a sustainable budget, but that is now in question.
"We're going to be assessing like everyone else," Christian said. "We don't get to print more money. We have to work with the money we're given."
Much of her career has been spent in government finance, starting as a budget analyst for Lee County in Fort Meyers, Fla., where the budget was $550 million.
"That was really the backbone of my career," Christian said. "You do everything."
She has followed a career path that was set out as a child in her hometown of Dublin, Ga., midway between Atlanta and Savannah. Her father loved politics.
"I clearly remember going to council meetings, doing homework while he was speaking to the council," Christian said.
She earned a degree in political science at Georgia Southern University. She thought about law school, but an internship with the city of Dublin the summer before her senior year kept her on track.
"They were determined for me to have the full idea of what local government was like," Christian said. "I was hooked on local government."
She earned a master's degree in public administration from the University of Tennessee. After Fort Myers, she worked for the city of Bristol, Tenn., then returned to Georgia as assistant finance director for the city of Columbus.
Georgia, like South Carolina, also limits the ability of local government to raise revenue. Columbus challenged those limits in court and lost, Christian said.
"We pushed public-private partnerships," she said.
One project created a business center with a mix of public and private funds. "It was novel at the time. People said, 'it's never going to work,'" Christian said.
She took the job in North Carolina because it focused on operations rather than finance. "I have been very deliberate in my career," she said.
Christian has also worked with nonprofits, helping those in financial trouble. But she has never considered a private sector career. "What kind of fun would that be?" she said.
"Local government is the level of government that's closest to the people," Christian said. "It's a very personal, one-on-one relationship. That's how people really know how government works."