After 129 state champions, coach calls it a career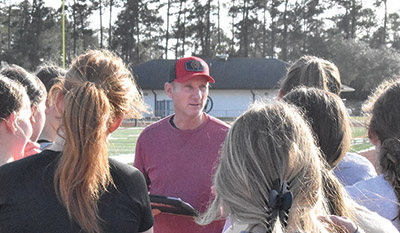 Coach Bill Peterman addresses athletes at the start of his final season.
Pride, heart, and desire. Waccamaw High School track and field athletes know these words not only because they make a cool acronym on a T-shirt, but because they had a coach who embodied them.
Bill Peterman is calling it a career after 26 years of coaching. He announced his retirement at the track and field end-of-year banquet on May 23.
"It just feels right," Peterman said. "I think it's just time."
In those 26 years, Peterman has coached 129 state champions at five different schools, seven team state titles – one from football – five runner-up teams, amassed a streak of 22 years with at least one state champion, and has had a state champion in every track and field event except for javelin, which Waccamaw added in 2020.
Those who know Peterman know that he doesn't display his accolades, but what he does cherish are the people who made it happen.
"That's what I remember the most, the people, not the championships," he said. "Memories of great people who did –and continue to do – great things. That's what matters most."
In 1997, after graduating from Ohio State University with an art education and fine arts degree, Peterman got a job coaching football and track and field at West Jefferson High School in Ohio.
"I learned a lot about paying attention to details and never accepting excuses while at West Jefferson," Peterman said.
Peterman produced results, being a part of an undefeated football team and having state qualifiers for track in every one of his five years there. He also inspired his students, one of whom followed in his footsteps.
Adam Huffman graduated from West Jefferson in 2000 and went on to teach math and coach track and field for the next 19 years and counting.
"BP is one of those people who might only be directly part of your life for a short time, but leaves impressions that last a lifetime," Huffman said. "He began as my teacher and coach, but has continued to serve as a mentor and, more importantly, a very good friend."
"There's just some people you see eye-to-eye with, [their] work ethic and drive to be the best, and that's what attracts me to certain people no matter what their age is," Peterman said. "If I can help them be better or push them or motivate them somehow, I'm all for it."
Peterman lost his parents in consecutive years while coaching in Ohio. He decided to move to the beach for a change of scenery. After receiving many offers, even one from Coastal Carolina University, Peterman chose to go to Andrews High, a school that didn't even have a track and field program.
Peterman doesn't deny the struggle, admitting that he had doubts at the start of each season. However, he took pride in caring for and teaching the students. What started as Peterman overseeing races at lunch duty ended with a team title in just his third year and also in his final year in 2008.
"I was always more interested in creating and building success, it must be the artist in me," Peterman said. "Every season was a work of art, and I was always trying to create a masterpiece. I see a championship caliber team at every school, even in the hallways."
After success-filled stints at Georgetown and Carvers Bay, Peterman arrived at Waccamaw in 2015. There he coached numerous talented athletes, including 14-time state champion Briley Arnold.
"I'd definitely say the first thing that comes to mind when I think of Peterman is his hard work and how much he cared and invested in his athletes. Coach Petermen sees potential in people and pulls the best out of them," Arnold said. "He believed in me even when I didn't, and that changed everything."
J.J. Sherman, who won two state titles for Waccamaw, called Peterman a "realist" who invests in all his athletes.
"He's the coach that will tell you how it is without sugar coating it," Sherman added. "Every athlete needs a coach like him in their life, a positive role model to look up to but also one that you can talk to about whatever you're going through in life and get the insight that you need."
Despite track and field mostly being an individual sport, Peterman showed Sherman how much of an impact his actions had on the enire team.
"If I slacked off on a rep in practice then other athletes would feel like it's OK to pick and choose when to work hard," Sherman added. "Coach made me realize that it was bigger than me, and if we wanted to be a competitive team it started with setting a high standard everyday with no excuses. To this day this is my mindset in whatever I participate in."
Peterman will continue to teach, and focus on his wife and two young sons. His desire for excellent work still burns brightly, so expect to continue seeing great things from him.
Peterman is finishing a book of track workouts from his state title seasons. He has saved every workout from every season since the 90s.
He also is exploring the possibility of being a part of starting a school.
"A place where hard work, humility, and hustle are embraced, and laziness and excuses are never accepted," he said. "I feel like our society needs to instill some grit and mental toughness back into our youth and move to repairing a fragile society that has been allowed to develop and exist."
"The biggest thing he taught me was confidence," Huffman said. "A confidence that helped me achieve in high school what I didn't realize was possible, and a confidence that I now try to help my own student athletes find.
"True leaders aren't in pursuit of the title of being a leader, rather they are in pursuit of the best interests of others," Arnold said. "Peterman just is a leader, not because he necessarily wants to be but because he laid down his time and desires for the better and long term benefit of others."
"I know who I am and what I've done," Peterman said. "For now, I just want to ride off into the sunset, roll out like the tide, and sail out into the mystic."