After kamikaze attacks, 75 years of giving thanks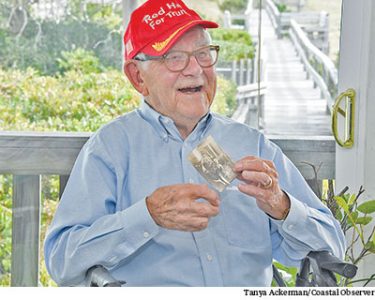 Johnny Dieter recalls his time aboard the USS Montpelier in the Pacific.
Johnny Dieter of Pawleys Island was serving in the Navy during World War II when the Japanese unleashed a new form of warfare: pilots intentionally crashing their planes into enemy ships.
"Their emperor was their God and it was a divine mission that those pilots were on," said Dieter, who served on the USS Montpelier. "They were young kids and they convinced them that was the thing to do."
During one three-day stretch starting on Nov. 27, 1944, 18 American ships, including the Montpelier, were targeted by approximately 400 kamikaze pilots.
"We were busy shooting at them and dodging them," Dieter said. "You're so grateful that they're missing you or that your anti-aircraft fire is being successful."
In the 75 years since that battle, Dieter makes sure he goes to church on Thanksgiving every year.
"To give thanks to the good Lord for blessing us," Dieter said.
Montpelier also survived bombings and strafings, and a torpedo that turned out to be a dud.
"Our [pilots] did a magnificent job of protecting us," Dieter said.
During all those attacks only one sailor on Montpelier was killed after being hit by bomb shrapnel.
"We were just most fortunate that all the damage was minor," Dieter said.
Sometimes, in battle, Dieter was afraid.
"Naturally you've got to be," Dieter said. "But you don't sit there and shiver about it, or talk about it or worry about it. You just go on and do what you're doing."
Dieter was born in Columbia on July 8, 1923, and was a member of the first Naval ROTC class at the University of South Carolina in September 1940.
After Pearl Harbor, Dieter received a deferment because of his age so he could finish his studies.
A lot of his classmates and some of the older ROTC students dropped out so they could enlist immediately.
"Everybody was anxious to get into the war," Dieter said. "There was a lot of volunteering from the university campus at that time."
Thanks to an accelerated program, Dieter graduated from USC in October 1943. Moments after receiving his diploma, he was given his commission as an ensign and his orders to report to the USS Montpelier, a light cruiser.
Dieter traveled by train to San Francisco and boarded a liberty ship, a mass-produced cargo ship designed to transport more than a thousand sailors and Marines at a time, and set sail for the New Hebrides islands in the Pacific. About a month later, when the ship arrived, there was no sign of the Montpelier.
Dieter stayed on the liberty ship when it sailed to Guadalcanal and finally found his ship in December.
Joe Crowley, the first man Dieter encountered when he boarded the Montpelier, remained a friend and hired Dieter to work at his insurance agency in New York when he left the Navy.
When Dieter first joined the crew of the Montpelier he slept in a bunk that was hanging by chains from a wall in one of the ship's corridors. From his bunk he could feel the motion of every wave. When Dieter wasn't using the bunk he folded it up against the wall so men could walk by.
As he got promoted he shared a berthing compartment with another officer and then eventually had one of his own.
Dieter spent 28 months on Montpelier as a gunner. He started off as the control officer on a 20-mm gun and then graduated to control officer on a 40-mm gun.
"The 40-mms were quads, there were four guns on one mount," Dieter said.
Next came the five-inch, 38-caliber anti-aircraft guns, where Dieter was battery officer and battery director.
The ship used it's guns so much that it had to return to the United States and have the barrels replaced two years after it was launched. A worn-down barrel affects the accuracy of the gun, Dieter said.
During its time in the Pacific, the Montpelier took part in the Battle of the Philippine Sea, which destroyed several Japanese carrier groups; shot down 13 Japanese planes; shelled Saipan, Tinian and Guam; and provided beach cover for dozens of Marine landings.
"When the Marines landed they wanted artillery protection from high up and we could give them that," Dieter said.
In July 1945, the Montpelier arrived in Okinawa to assist in the invasion of Japan, which was preempted by the dropping of the atomic bombs. After the Japanese surrendered, the ship was dispatched to the Wakayama, Japan, to help with the evacuation of Allied POWs. Crew members also toured the ruins of Hiroshima.
In all, Montpelier was awarded 13 battle stars for service during World War II.
When the ship returned to the United States, Dieter, who by that time was a lieutenant, transferred to the Norfolk Naval Air Station in Virginia.
"I had had enough of the Montpelier at that time," Dieter said.
He was so eager to get to his new assignment that he left half of his belongings on the ship.
At the air station his title was "officer in charge of nuts, bolts and screws."
"I was eminently well-qualified," Dieter said. "That's the three areas I [was] really good at."
Dieter left the Navy six months later in July 1946, married Margaret Tucker in August, and moved to New York for the insurance job.
After two years, the Dieters moved to Columbia where he started an insurance company and she worked in interior design.
They lived in Columbia for 25 years before settling in the place where their friendship had begun 40 years before during a vacation: Pawleys Island. Dieter bought into Pawleys Island Realty in 1974 and then sold his partnership and started the Dieter Co. His wife opened Pawleys' first year-round interior design shop, Island Interiors.
The Dieters remained sweethearts until Margaret's death in 2015.
"One of the best friends I ever had," Dieter said.
Eleven years ago Dieter spoke about his experiences as part of a video series called "World War II Memories" produced by the Georgetown County Library System. That interview can be seen at gcdigital.org.