All 4 Paws wins grant for clinic with 'can-do' idea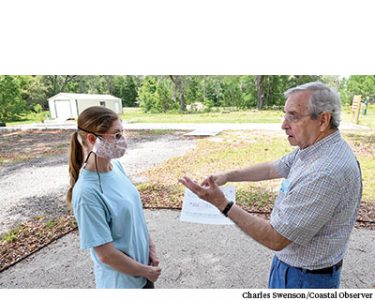 Tom Carter and Allison Gillespie go over plans for the clinic that will sit on the slab behind them.
Staff at All 4 Paws Animal Rescue take to the road when it is time to spay or neuter cats and dogs, driving as far as Moncks Corner to use clinic space. So a couple of shipping containers will come in handy.
The nonprofit has received a $230,000 grant from the Petco Foundation that will allow it to set up a spay and neuter clinic in a pair of 40-foot-long shipping containers.
It will be the first vet clinic developed by Clinics in a Can, which began converting containers into medical facilities in 2002.
"When you step inside one of these clinics you would think you were in a regular clinic or ER," said Mike Wawrzewski, a physician's assistant who founded the company. It was an outgrowth of a Christian mission that built hospitals overseas.
The company, based in Witchita, Kan., has made clinics for an array of human services, including COVID-19 testing. They are intended to go to places with limited resources and infrastructure. This will be the first veterinary clinic.
"It's going to be a fraction of the cost of a big clinic," said Tom Carter, who chairs the All 4 Paws board.
He thinks the concept will be a model for other shelters in the country.
Carter discovered Clinics in a Can after learning that the cost of a stick-built clinic that met ASPCA guidelines would be about $700,000.
If All 4 Paws wanted a clinic it could open to the public to help defray the cost, the price would be about $800,000.
"We can't really afford that," Carter said.
All 4 Paws pitched the clinic to the Petco Foundation for an innovation award. The foundation uses a "Shark Tank" format that, because of the pandemic, was done by video this year. Allison Gillespie, the operations director at All 4 Paws, pitched the clinic saying, "we really just need you and your can-do attitude."
All 4 Paws won the competition.
The nonprofit still has to raise $58,000 to complete the project, but it expects to have the clinic in place this fall, Carter said.
All 4 Paws bought a lot off Petigru Drive near its shelter last year. A mobile home on the site was sold, leaving a 73-foot-long concrete pad behind. That was before Carter discovered the Clinic in a Can concept.
Having the pad will reduce the cost of permitting and construction for the clinic. "This thing has just taken on a life of its own," Carter said.
Only 13 percent of the shelters in South Carolina have budgets over $1 million, he said. Those are the ones that can afford spay and neuter clinics.
"Their intake is so high, they can't open up the time to take in community spay-neuters," Carter said.
All 4 Paws, with revenue of just under $600,000, is a mid-size shelter. With its own spay-neuter clinic it will be able to help smaller organizations, he said.
"There's no way we can stop euthanization across the country if we can't spay and neuter. Having our own clinic, we could do a lot more," Carter said. "You have to empower local clinics like us."