And the kick is … Good!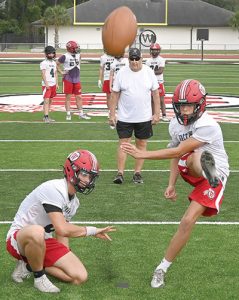 Jake DiMaria practices field goal kicking under the scrutiny of coach Jack Simcsak.
Jack Simcsak stays active by mentoring athletes young enough to be his grandchildren.
The 74-year-old New Jersey native is one of the most sought after kicking coaches in South Carolina.
"I'm able to help young people get better, and it gets me out of the house," Simcsak said. "It's not good to sit around and do nothing."
One of his pupils this year was Jake DiMaria of the Waccamaw High School football team.
"He helped me a lot because I just started kicking this year," DiMaria said. "He came in and he really helped me to get the basics down and developed me into a real good kicker."
"The first time I saw him kick, he had ability, no doubt about it, but he never kicked before," Simcsak said. "He's just a great natural athlete. He was a joy to coach."
Simcsak is a native of New Brunswick, N.J., and played quarterback and defensive back and was the punter at Highland Park High School.
"Back in the day, most of us played other positions," he said. "When you were good enough to do something else, you did it. It's a different game nowadays for sure."
Simcsak then attended Virginia Tech University and was a football teammate of Frank Beamer, who would go on to become a college football legend. He is also the father of University of South Carolina football coach Shane Beamer.
After graduating in 1971, Simcsak was the last draft pick of the Denver Broncos. He played in the preseason games, but just before the regular season started, the Broncos told Simcsak that he didn't make the roster.
He spent one season on Denver's reserve squad and then signed with the New York Giants, who released him before the first game.
Simcsak then played one season for the Philadelphia Bell of the World Football League before giving up on the dream of a career as a professional football player.
His coaching career began when his college roommate asked him to help with the Perth Amboy (N.J.) High School football team.
"That's how my private lessons started from that point," Simcsak said. "I would meet people who
See "Kicking," Page 12
From Second Front
would ask, 'can you coach my son?' And the word got out."
Simcsak worked a myriad of jobs, including hair stylist and bartender, before retiring.
n
Simcsak has worked with Lowcountry kickers since relocating here 11 years ago.
After four years as a volunteer coach with the Goose Creek High School football team, he's spent the last six years working with kickers at three colleges and a dozen high schools from Myrtle Beach to Summerville.
He recently spent a weekend hosting a clinic at Limestone College.
"I love the game and I love helping," Simcsak said. "That's why I keep doing it."
Simcsak taught himself how to kick; he never had a kicking coach.
"I made every mistake you could make and I had to learn how to correct them," he said.
Along with working with kickers during football practice, Simcsak often continues to coach and mentor on the sideline during games.
"You can't rewrite the book on game day, that's for sure. You don't want to make a major change. … I'm not going to try to restructure somebody on game day," Simcsak said. "We just make an inch move north, south, east or west and that will correct the ball flight. That is not a big deal."
DiMaria has been playing soccer since he was 6 but always wanted to play football. His mom, Lauren, took some convincing.
"It's been really fun," he said. "Kicking a soccer ball helped me get a lot of power."
DiMaria was 3-for-6 on field goals this season. His longest was 36 yards. He also converted 20 of 23 extra point attempts.
DiMaria punted 38 times, averaging 35 yards per kick. His longest was 52 yards. Eleven of his punts were downed inside the 20-yard-line.
Simcsak said he saw "unbelievable" improvement in DiMaria as the season progressed.
"He was like a sponge, everything I told him he absorbed," Simcsak said. "I didn't have to keep repeating myself."
DiMaria plans to play for the Warriors football team in 2023, his senior season.
"I'm going to try and train in the offseason and get a little better to help out next season," he said.