Another record falls for Palmetto Giving Day: More groups in line for online giving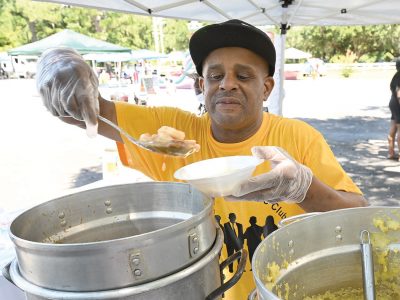 Vincent Davis, president of the Pawleys Island Civic Club, a new participant, serves shimp and grits at a fundraising event.
In its first five years, Palmetto Giving Day has raised nearly $7 million for nonprofits that operate in Georgetown County.
Last year's event set records for the amount of money raised – $2.1 million – and number of donations – 3,699.
"We're looking forward to another record-breaking year," said Ashley Nelson, program and communications officer for The Frances P. Bunnelle Foundation, which founded the annual fundraiser. "Anything over last year's numbers would be a huge success for us. If we were to surpass $2.5 million, it would be phenomenal."
This year's event has already set a record for participants with 62. The event has averaged 50 nonprofits in the past few years.
Nine of the nonprofits are new to Palmetto Giving Day. Another three have rejoined after participating in the past.
It's the first Palmetto Giving Day for the Pawleys Island Civic Club, and Backpack Buddies, which provides food to students at intermediate and elementary schools around the county.
Vincent Davis, president of the civic club, said he saw an opportunity to both provide for the community and introduce the club, which was started in 1972, to more people. Davis has a goal of raising $100,000.
Some of the club's programs the money will support include Coats for Kids and midnight basketball at the Waccamaw Regional Recreation Center.
"There's a lot of work to do," Davis said.
Rita Schaap, who helped come up with the idea for Backpack Buddies more than a decade ago at St. Peter's Lutheran Church, said Bunnelle has supported the program for years, and officials there encouraged her to join Palmetto Giving Day.
"We're a small group of volunteers, so I think it was a little scary for us to take on Palmetto Giving Day," Schaap said. "We just thought it was time to spread our wings a little bit and take a chance and join in on this great opportunity."
Originally, Schaap had a goal of $5,000 on Palmetto Giving Day. But, after securing $3,000 in matching funds from the Lions Club of Pawleys Island, a longtime supporter of Backpack Buddies, she is optimistic that they will surpass that goal.
"We'll feel more successful no matter what we do, so that's nice," Schaap said. "I think it will be interesting to see what happens this first year and how we can grow each year that we're involved in it."
Six nonprofits topped $100,000 in donations in 2021: Smith Medical Clinic, Teach My People, South Carolina Environmental Law Project, Friendship Place, Helping Hands of Georgetown and The Village Group.
The Village Group also had the most donations with 364, edging out Saint Frances Animal Center with 356.
Nelson said for many of the nonprofits, Palmetto Giving Day has become their largest fundraiser of the year.
"I think COVID was part of the process of them realizing that they had to reevaluate golf tournaments and galas," Nelson said. Palmetto Giving Day "doesn't require as many hands on deck in terms of having people to volunteer and setting up multiple committees, and people can participate from anywhere in the world. I think that's the beauty of Palmetto Giving Day. You're not just limited to people in the local community to participate and support your organization."
The amount of donations on Palmetto Giving Day has grown steadily since the first event five years ago: $676,000 in 2017, $1.1. million in 2018, $1.2 million in 2019, and $1.7 million in 2020.
For the first time in three years, Bunnelle is hosting an in-person event featuring music and food on Tuesday from 4 to 7 p.m. at Francis Marion Park on Front Street in Georgetown.
People can stop by to make a donation, or just to support their favorite nonprofits.
"It's more of a celebration, and a chance for the community to meet and greet the nonprofit organizations since we haven't been able to have an event for the past couple of years," Nelson said.
In-person Palmetto Giving Day events were canceled the last two years because of the COVD-19 pandemic.
An anonymous donor has given Bunnelle money to award to nonprofits at the event.
"There's going to be some exciting opportunities for people in the community to win some prizes as well," Nelson said. "For the past two years, we haven't been able to be on Front Street, but we hope to come back with a bang and have a great showing from the community."
To make a donation, go to palmettogivingday.org. Only donations made during the 36-hour window from 6 a.m. Tuesday to 6 p.m. Wednesday will count toward Palmetto Giving Day totals.
The website also keeps a running total of the number of donations and the amount of money raised throughout the 36 hours.