Artificial turf part of $5 million in upgrades for district athletic facilities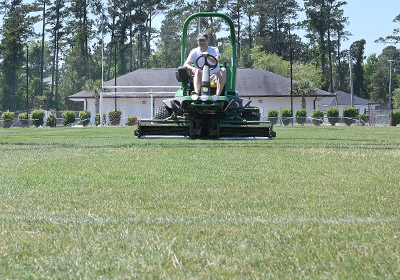 Eight teams play on the Waccamaw High field during the spring season.
The football fields at Georgetown County's four high schools are being converted from grass to synthetic turf.
"I think it's a very visible addition to each of our high school campuses," Superintendent Keith Price said. "It's something our community can be proud of and it's going to touch each corner of our attendance area."
Waccamaw and Georgetown have the most varsity and junior varsity sports teams that use the football field in the spring, so their stadiums will be converted by the fall of 2022. Andrews and Carvers Bay will be completed by fall of 2023.
Tyronne Davis, the district's assistant superintendent for facilities and transportation, said conversion work will start right after graduation and take about 90 days. That will likely mean the Warriors and Bulldogs football teams will have to play games on the road at the beginning of the 2022 season. Playing home games at Andrews or Carvers Bay is also an option.
Each field costs between $850,000 and $900,000 and comes with a 10-year warranty, Davis said.
The work is part of a $5 million upgrade to sports facilities that will be paid for with funds from a $165 million bond referendum approved by voters in 2016.
Waccamaw football coach Amondre Johnson appreciates everything the district has done to upgrade athletic facilities in the past few years.
"I think it's going to be more efficient for us as far as field maintenance," Johnson said. "I think it's also going to draw a lot of attention to the county and our schools. It's more appealing for outside resources to come and want to play on turf."
Chris Bergeron, Waccamaw's boys lacrosse coach, said the new turf will make for a "better game experience," especially since the lacrosse balls will have "true" bounces.
"The tempo gets a little faster because the ball runs a little faster and kids can run a little faster on a pure synthetic surface," Bergeron said. "You don't have long grass that slows the ball down. The goalies will have to adapt and players will have to adapt."
The speed of soccer games will also increase, according to Waccamaw girls coach Mark Sanchez.
"I think it's going to be great," Sanchez said. "Obviously with the fast teams I have, they'll only become faster."
There are pros and cons to synthetic turf, Sanchez added. "You don't have to worry about the weather or the mud," he said. "The bad part is the potential of injuries of ligaments and knees."
Price said hard work by district staff and M.B. Kahn, which oversees the bond work, has resulted in so much money being saved that the district is now funding projects it wants rather just those it needs.
"Because this is a significant project, we wouldn't be able to do this at one time for every campus using capital funds or our own budget," Price said.
The district saved money on bond projects because it got money from the federal government during the COVID-19 pandemic to pay for things like upgrades to HVAC systems at schools.
Davis and Price said the district will also save money in the long run by not having to maintain the grass fields.
"We've had issues at all of our fields," Davis said. "This is going to allow us to put in these synthetic fields in and hopefully cut back on the maintenance."
The district recently learned that Georgetown's football field needs to be dug up and resodded, with more sand added to its base, at a cost of more than $120,000. That will no longer be needed.
The district has budgeted $5 million for the project, which also includes upgrades to bleachers and bathrooms.
Some of the bleachers on the visitors sides in football stadiums are out of date, Michael Johnson, coordinator of athletic facilities for the district, told the School Board earlier this month.
"We're starting to get to the point where it's becoming unsafe," Michael Johnson said. "We need to address that issue by getting new some bleachers and getting concrete underneath them to keep them stable and make the walkways handicap accessible."
The bathroom renovations will also include facilities at baseball and softball stadiums and inside gymnasiums.
"We want to make it something that when we invite the pubic in to our events, we try to present the best possible situation for them," Michael Johnson said.
In order to pay for the stadium upgrades with bond money, the school board this week approved paying for a $1.95 million project to upgrade fire alarms with capital funds instead of bond money.