As clock ticks down, administrator search gears up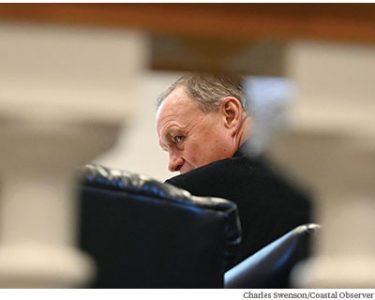 Administrator Sel Hemingway will extend his planned departure until Feb. 29.
Georgetown County may need to find an interim administrator as it seeks a replacement for Administrator Sel Hemingway. It will also be looking for a new county attorney.
Hemingway agreed this week to delay his planned retirement from Dec. 31 to Feb. 29 with the understanding that he would no longer be in the office every day in January and February. He said he will work a minimum of 30 hours a week, and a priority will be starting the process to put a capital projects sales tax referendum on the ballot in November.
The next day, Wesley Bryant, county attorney since 2007, announced he will be leaving next month to take a job with Waccamaw Regional Council of Governments. Bryant is also Hemingway's son-in-law.
"It's a very frustrating series of events," Council Chairman John Thomas said.
Hemingway announced his retirement in May. After conducting its own search, County Council voted 4-3 to offer the administrator's job to David Garner, the current director of Abbeville County. He turned it down.
Ray Funnye, the county Public Services director, and Brian Tucker, the Economic Development director, were also finalists. But the council decided, also in a 4-3 vote, to hire an outside firm to conduct a new search.
The job was posted this week on the website of the International City/County Management Association by the search firm, Slavin Management Consultants of Atlanta. The first review of résumés is scheduled for Jan. 6.
"We'll have some idea of where things are with the search," Hemingway said.
But even if a likely candidate emerges in the next month, it would be unlikely that person could be interviewed, give notice and relocate before the end of February. In that case, Hemingway said the county could hire an interim administrator.
"There are people out there, very qualified, who could serve in that capacity," he said.
The state Association of Counties and Municipal Association keep rosters of interim administrators, Hemingway added.
Council Chairman John Thomas said an interim administrator was discussed when the council voted to reopen the search. "I don't think that's a very good idea," he said. "We've got a lot of things to get done this year. We don't need a temporary person."
Thomas was in the minority who opposed a new search. He favored hiring Funnye as administrator.
"Words cannot describe how frustrated I am with this whole thing," Thomas said. "We could have had an administrator in place right now."
The county is also looking for a new finance director to replace Scott Proctor, who will leave on Jan. 31. The council's initial plan was to have an administrator hired in October who would help hire the finance director.
Applications for the finance job have been slow, Thomas said.
Bryant is only the second in-house attorney for the county. The position was previously outsourced to private attorneys.
He will become director of compliance and government services at Waccamaw Regional, which serves local governments in Georgetown, Horry and Williamsburg counties. It is a new position within the agency.
"It's problem solving," Bryant said. "This is a very progressive step in my career."
The new job gives him the opportunity to build management skills, work with federal programs and create new services, he said.
He will also provide legal services to the agency and could provide them to Georgetown County under contract, Bryant said.