At 137 feet, ladder truck is state's tallest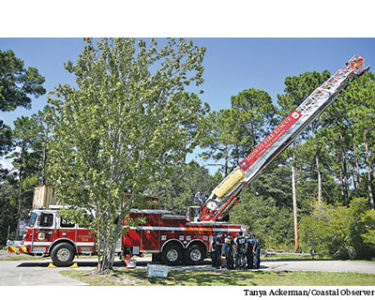 The new truck is due to go into service next week.
The tallest fire truck in South Carolina has arrived at Midway and Fire Rescue and will go into service next weekend.
The new 12-foot-tall truck, Ladder 814, has a 137-foot ladder and cost $1.6 million.
Assistant Chief Jim Crawford said the length of the ladder will allow Midway to fight fires without having to get too close to a structure, like a beach house that is set back from the road and has limited access.
The new truck doesn't have a bucket at the end of the ladder, but it does have a camera for thermal imaging, infrared and night vision. The camera, made by FILR Systems, can determine if there are hot spots after a fire has been extinguished, if people are inside a burning building or if there are any unseen victims at the scene of an accident. The camera can also be used to find someone missing in the ocean.
"The FILR we thought was a very important addition just because of some of the things we encounter," Midway Fire Chief Doug Eggiman said.
Despite the longer ladder, the truck chassis is four feet shorter than Midway's current ladder truck. The wheel base is also shorter to help with maneuverability.
All Midway personnel have to be trained to use the equipment on the truck before it is put into service. The manufacturer sent an employee to Pawleys Island to train all the firefighters, and Division Chief Matt Smittle, who is in charge of training for Midway, will work with the drivers.
"There are so many different things on this truck that they have to be proficient at," Crawford said. "So it's going to take a little while."
Above the doors of the truck are stickers that read "Carney Strong" and "Do Your Job," a reference to Capt. Josh Carney, who died last year from occupational cancer. There is also a plaque on the back of the truck dedicating it to Carney.
Carney was a member of Midway's apparatus committee and was in on the planning of the truck, which started 18 months ago. His motto was "Do Your Job."
"He had his hand in most of the trucks we purchased," Eggiman said.
Ladder 814 replaces a Midway truck with a 95-foot ladder bought for around $768,000 in 2003. Midway expects to get a minimum of 15 years use out of the new truck.
Midway will celebrate its new addition with a blessing and "push in" ceremony on Sept. 14 at 10:30 a.m. at the headquarters station in Willbrook, after which Ladder 814 will officially be in service.
A "push in" ceremony dates to the days of horse-drawn engines. Since the horses could not be trained to walk backward in a group, they would be unhitched and firefighters would push the apparatus into the fire house.