At senator's urging, council enters dispute over North Inlet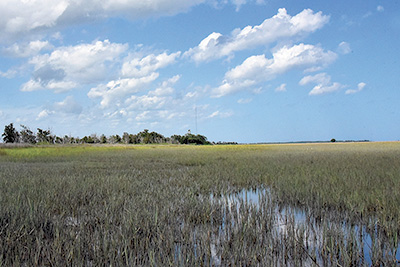 The Baruch Foundation is seeking title to 8,000 acres of marshland adjoining Hobcaw Barony's 8,000 upland acres.
Georgetown County Council this week joined a dispute over the ownership of tidelands surrounding North Inlet that is working its way through the state courts. A resolution adopted unanimously by the council pledges the county's "support of maintaining public access to these essential waterways and marshlands."
"It's sort of been a battle between the state and Hobcaw Barony," said Council Member Bob Anderson, whose district includes North Inlet. "The state has decided to push back."
It was state Sen. Stephen Goldfinch who proposed that Anderson introduce the resolution.
"The more public support that keeping North Inlet public has the better. I'm waging a public relations campaign right now," Goldfinch said.
The Belle W. Baruch Foundation, which owns Hobcaw, filed an action in Circuit Court in November 2019 to confirm its ownership of 8,000 acres of marsh that surround 8,000 upland acres. The property is home to research facilities operated by the University of South Carolina and Clemson University along with a federally-funded National Estuarine Research Reserve.
The foundation has said in legal filings that its title derives from grants made by the kings of England and has been upheld in federal court. The 2019 action was brought after consulting with state agencies in order to comply with current statutes.
The state challenged the Baruch Foundation's claim, but argued that even if it is valid the public has an easement over the marsh.
The DeBordieu Colony Community Association sought to intervene in the case. It argued that DeBordieu residents have an economic interest in maintaining access to North Inlet and that it can't rely exclusively on the state to defend that interest. A judge denied the association's motion to intervene. An appeal is pending.
Blanche Brown, general manager of the association, was not aware of the council resolution, but knew some residents had contacted the county.
"It's wonderful. We're encouraged," she said.
George Chastain, executive director of the Baruch Foundation, was also unaware of the resolution. "I haven't had any contact with the county," he said.
The foundation has said the title issue won't affect access because the public's right to use navigable waters is protected by the state constitution.
"Nothing has changed," Chastain said.
Goldfinch hopes the council resolution encourages the state to continue "fighting the good fight."
"I hope Baruch's board comes to its senses," he said.