Athlete completes school's first hat trick in All-State honors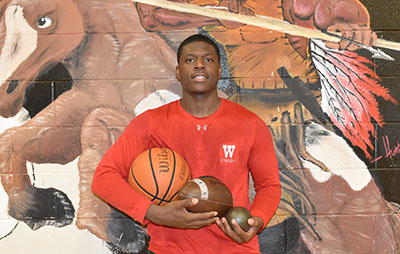 Victor Otubu
Victor Otubu recently became the first Waccamaw High School athlete to be named All-State in three sports.
"I was shocked, because my freshmen and sophomore years I was one of the kids that thought, 'I've got to stick to one sport,'" Otubu said. "As I got older and more mature, I realized the more sports you play it makes you a better rounded athlete."
Otubu was honored in football, basketball and track and field. He finished second in the discus and third in the shot put in track and field, helped lead the basketball team to the Lower State playoffs, and helped the football team to its first win under coach Amondre Johnson.
"Vic is an amazing athlete, and an even greater person," Johnson said. "I have been blessed to watch him grow from his sophomore year to his senior year, and one word to describe Victor is determined. Once Vic sets his mind to it, he will work in every way to get the job done."
Principal Adam George said the All-State honors are a testament to how hard Otubu works.
"When he walked in these doors as a freshmen you could tell he was a big kid with a lot of potential. Sometimes students don't necessarily realize that potential," George said. "Victor understood from day one that he had to get it done in the classroom before he could get it done on the field. It's also a testament to the coaches that he's had who have really pushed him and said 'you can do this.'"
Basketball coach Mike Quinn said he is not surprised Otubu got three All-State honors because of how driven he is.
"Victor simply loves to play sports and has a fierce desire to win every time he competes. Just being a three sport athlete during COVID shows how dedicated Victor is to Waccamaw High School and all his different teammates," Quinn said. "Victor has come so far and spent so much time improving himself that these accomplishments mean so much to him. Outside these well deserved rewards, I know that Victor would rather have a state championship banner in the gym for all of his teams this season."
Otubu will be playing football for South Carolina State in the fall. Although his first love was basketball, the New York native has grown to love football.
"I just like the brotherhood of the sport, the team bonding and the physicality of the sport," Otubu said.
Otubu was a member of Waccamaw's lacrosse team in the spring of 2020, but only got to play a handful of games before schools closed due to the COVID-19 pandemic.
"I don't know if I would have been good at it because the season was so short," Otubu said. "But I was getting better every day."
He switched to track and field this spring when coach Bill Peterman told him he had a good chance of becoming Waccamaw's first three-time All-State honoree.
"Vic was instantly good when he came out, which comments on his athletic ability," Peterman said. "As the season progressed, he became great and very focused. It would be interesting to see what would have happened if he would have been throwing since he was in ninth grade, or even middle school."
Otubu said Johnson, who is an assistant coach on the track and field team, also encouraged him to try out, and pointed out that a lot of athletes at Division I schools played multiple sports in high school.
"I wanted to be one of those guys who was good at everything I tried," Otubu said.
"When he came out for track and tried something he had never done before, he told me he was going to be great at it, and he was," Johnson said. "A student-athlete that is All-State in three sports comes far and few between. He has put himself with an elite group of people that have excelled in three sports, and I could not be prouder to coach a kid like that."
Otubu attributed his success in discus and shot put to Waccamaw's throwing coaches, James Propps and Bob Siembida.
"Aside from strength, there's also technique and once I got my footwork down inside the ring it was just a matter of putting it all together," he said. "They taught me everything I know and really took their time with me."
Peterman said many Waccamaw athletes throughout the years have been encouraged to specialize in one sport or have ignored advice from coaches about how other sports can complement their skill set of their favorite sport.
"Vic listened, and now he is an example of what can happen when you do multiple sports, make wise decisions about which ones to participate in, and work hard at them," Peterman added.
"In light of these unprecedented accomplishments, I hope more student athletes will play multiple varsity sports and follow in his footsteps because he has brought a very special presence to our entire school," Quinn said.
All-State honors are bestowed on athletes in each sport and by classification.