Atop no one's list, jail upgrade looms as major capital project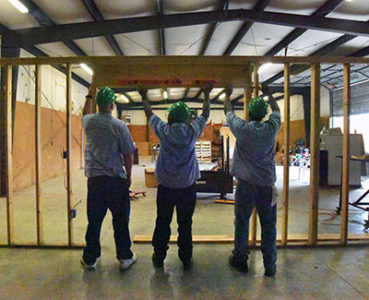 Growth estimates for the jail population were reduced in part because of a program that helps inmates find jobs after their release. Inmates renovated a building for the program in 2017.
As Georgetown County starts to look at ways to spend surplus sales tax, and projects to pitch to voters for another round of the local 1-cent tax, a project that is not high on anyone's list is likely to rise to the top. The county needs to repair or replace its aging jail at a cost estimated between $26 million and $36 million.
The mechanical systems at the jail have worn out, said Dan Mace, a vice president at Moseley Architects in Charlotte, which did a study of the facility. "I've seen very few detention centers that have the level of deterioration" as this one, he told County Council members at a workshop this week.
The facility, which opened in 1993, also needs a different mix of housing to meet current federal and state regulations. "You have different types of offenders that can't be housed together," Mace said. "That's your biggest shortfall."
The cost of the project exceeds the county's current ability to borrow money without a referendum. But the county has about $18 million in surplus collected from a 1-cent capital improvement sales tax since May 2015. The tax expired April 30. The county needs to spend the surplus before it can ask voters to adopt a new penny tax. If the issue isn't placed on the ballot in 2020, it would have to wait until the 2022 general election.
The sales tax raised about $40 million over four years. The county had $28.2 million worth of projects and one of those, a $6 million contribution to dredging in Winyah Bay, was dropped when the estimated project costs soared.
The current jail has space for 212 inmates, but its actual capacity is less because of the housing needs, Mace said.
A renovation of the exiting facility would include an expansion to allow up to 372 beds. "You can't do it all at one time," Mace said, so it's a costly process: $26.6 million.
A new jail, on 10 to 15 acres the county already owns, would cost $36.7 million. It would have 354 beds and be built for more efficient operations and maintenance, Mace said.
Assistant Sheriff Carter Weaver, who listened to the presentation, said the sheriff's office wants to wait for council's review before expressing a preference. But he said he thought the cost of running a new, larger facility would be less than running the current jail.
If the county decides to renovate and expand the current jail, Mace said the facility would not be able to expand further.
"A detention center ages in dog years," Mace said, because they operate around the clock.